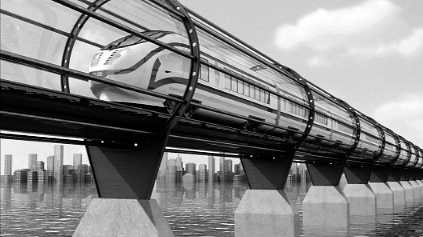 Let's talk about hyperloop, a super-fast transport network that promises to revolutionize the way we travel. And it could be reality. Many engineers, including teams from India, are working on it
How will it work? "The architecture is actually very simple. You remove the pressure from an enclosed environment: Think if it as a tube, remove friction of the wheels by levitating that pod inside the tube. Then it takes very little but not enough energy to move that pod at an incredible speed," says Rob Lloyd, CEO of Hyperloop One, in a video posted on YouTube.
By "incredible speed", he means 1,200 km per hour or 1 km every three seconds. Compare this with the speed of India's first bullet train proposed between Mumbai and Ahmedabad, 508 km apart. It will attain a maximum speed of 350 kmph.
Hyperloop is catching the fancy of engineers worldwide ever since Telsa CEO Elon Musk proposed the concept in 2013. To translate his idea into reality, Los Angeles-based Hyperloop One launched a global competition last year, inviting applications from teams to put forward a commercial, transport, economic, and policy case for their cities, regions, or countries to be considered for hosting the first hyperloop network.
This January, Hyperloop One is said to have pared the competitors down to 35 at the semi-final stage. Of them, five teams are from India. The five proposed routes to have made it to the semi-finals are Mumbai-Delhi, Chennai-Bengaluru, Chennai-Mumbai and Bengaluru-Thiruvanthpuram, and a port connector project.
All 35 semi-finalists will get a chance to present their proposals at three showcase events -- in New Delhi on Feb 28, Washington DC on April 6 and London on April 27.
"The teams are required to come up with a corridor for the hyperloop, government policies, and how the hyperloop corridor will help drive growth in their region," Vivek Tiwari, executive chairman, Dinclix GroundWorks, said in an email.
Indore-based Dinclix GroundWorks' DGWHyperloop has proposed the Mumbai-Delhi corridor that will pass through Nashik, Indore, Kota and Jaipur. And it will take 60 minutes to traverse between the national capital and the commercial capital, 1,300 km apart.
If you are wondering about the cost of the ticket, the journey will cost you not more than a train ticket. This is what DGWHyperloop's website claims. The company says the ticket will be in the range of Rs 1,700 to Rs 2,100.
The technology is said to be energy-efficient and cost-effective. "Solar panels will be installed on top of the tube, providing enough power to keep the pods moving," DGWHyperloop says.
As for the cost, Bibop Gresta, chairman of Hyperloop Transportation Technologies (HTT), is quoted as saying in the media that "put $1billion in hyperloop and you have a faster, more efficient way to transport people".
But what's the need of hyperloop when the bullet train has already been approved? "India needs all forms of transportation technology — from rural transport by Sumos and Boleros to the hyperloop. There's a big enough market in a country of 1.3 billion to have all these modes," Vinayak Chatterjee, Chairman, CII National Committee on Infrastructure, tells us in an email exchange.
Any challenges? Tiwari says land acquisition is one of the biggest challenges. "We're in contact with government agencies and private firms, advising and helping us to tackle the situation," he says.
Dinesh Kumar, Divisional Railway Manager, Ambala, is positive about hyperloop. "If there's a political will for a project, impediments can be removed," he says.
Top News
The 58-year-old OBC leader served as minister for higher edu...
Article 370 was a temporary provision, says CJI as Bench pro...
NC leader Omar Abdullah expresses 'disappointment', but vows...
All newly elected MLAs told to compulsorily attend the meeti...
Rape survivor had visited King George's Medical University w...