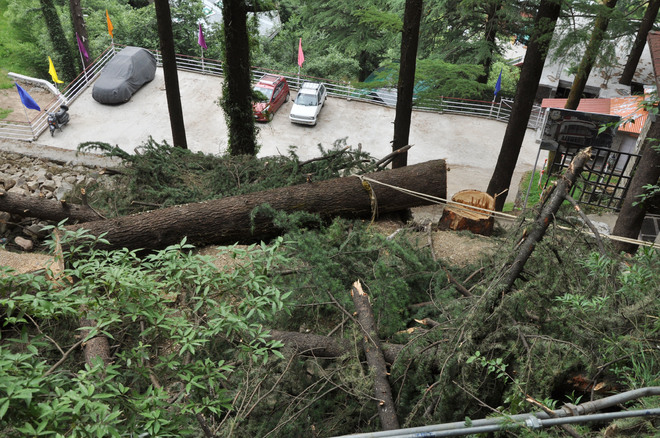 Tribune News Service
Dharamsala, May 26
Despite the High Court order, the felling of deodar trees continues unabated in Dharamkot and McLeodganj.
Chief Minister Virbhadra Singh too had marked an inquiry into felling of 17 trees in the town a few days ago.
The illegality is being committed without any fear.
Those who have taken permission have sped up the felling of trees as they fear that officials probing the matter could stop or question them. It is learnt that officials of the municipal council and forest department are hand-in-glove with them.
Two days ago, two green deodar trees were felled just near the entrance of Gagan Resorts in Dharamkot. Following the felling of trees, water pipelines of the area were damaged, causing resentment among residents of the area. Inquiries by The Tribune revealed that the permission of felling the trees was given by the district administration just about a fortnight ago. The owner of Gaggan Resort, Akash, admitted that they had taken permission from the Kangra Deputy Commissioner Kangra. The way the permission to fell these two green trees was given raises doubts about the procedures followed. As per rules, a district-level committee headed by the Deputy Commissioner can give permission under the Municipal Council Act only if the trees are threatening life or property of individuals. In the present case, the felled green deodar trees were well-entrenched in the ground and were located just near the gate of the resort. They were obviously not threatening any life or structure. Executive officer of the Dharamsala municipal council Lalit Kumar, who gives permission for the felling of trees, said he was out of station and was not aware of the case. MC official Rajesh Kumar admitted that permission was given to one Jagdev Singh to fell two green deodar trees. He, however, refused to state the reasons behind giving the permission.
Sources said in some cases, the permission given by the Deputy Commissioner was misused.
As per the inquiry conducted by the forest department in the recent past following the orders of Additional Chief Secretary Tarun Sridhar, 17 trees were felled in Dharamkot and McLeodganj, out which 14 were felled after taking permission from the committee headed by the Deputy Commissioner while three were felled illegally.
The sources said the committee had given permission to fell just 10 trees and uproot four stumps of dead trees, but the people felled green trees on the pretext of uprooting stumps. Neither the forest department, nor the municipal council has to date acted against the violators.
Top News
Mayawati makes the announcement at party meet in Lucknow
Sai has headed BJP's Chhattisgarh unit three times, displayi...
Rising trend of people leaving Canada risks undermining one ...
Instead of addressing crucial issues, Canadian Government ha...
Shri Rashtriya Rajput Karni Sena chief Gogamedi was gunned d...