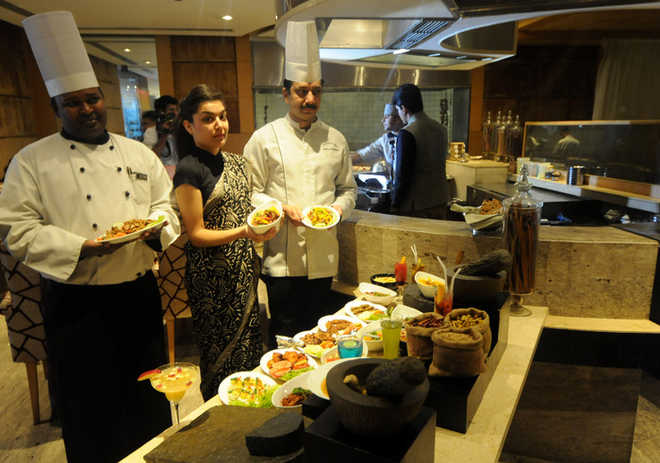 Amarjot Kaur
When the aromatic flavours of culinary art fuse with the essence of culture, it brings to table not only dramatic food, but also the taste of tradition. As a part of their Lohri celebrations, The Café 17, The Taj, is all set to launch their four-day-long Lohri Dinner Buffet with an interesting new menu that lists a series of traditional Punjabi dishes, which aims to offer its guests a taste of authentic Punjabi cuisine.
Executive chef Sumant Dadhwal shares, rather passionately, how he was acquainted with the 'shahi khana' at Captain Amarinder Singh abode, "We were all invited to Patiala at Capt Amarinder Singh's place and it was there that I met the royal chefs, from where we picked up a series of ways to prepare authentic Punjabi food."
Many people believe that Lohri was originally celebrated on winter solstice day; however, the festival is also associated with the harvest of the Rabi Crops. "In our menu, we have very special dessert called Gur Ki Kheer, which is made with sugarcane juice and rice. Most of the Punjabis consider it an auspicious dessert to be eaten on Lohri," says Sumant.
"We want our guests to experience the fervour and vibrant colours of lip-smacking traditional Punjabi food, freshly cooked right in front of you to. So our guests can enjoy Pipey wale cholley kulche, Tawa Kukad and Gurdey, kaupurey and kalegy, being prepared live at Lohri Da Vehda Food Festival," he adds. Also, while sharing that the menu will keep changing every two days, Sumant doles out a few 'must-haves', - masaledaar bateer, chuza lawang elachi and patiyala mutton malai kofte, gandey wale khumb, doodhi barfi, amarti, and Til de laddoo.
(The buffet costs Rs 1,200 per person and the festival is on till January 13)
amarjot@tribunemail.com