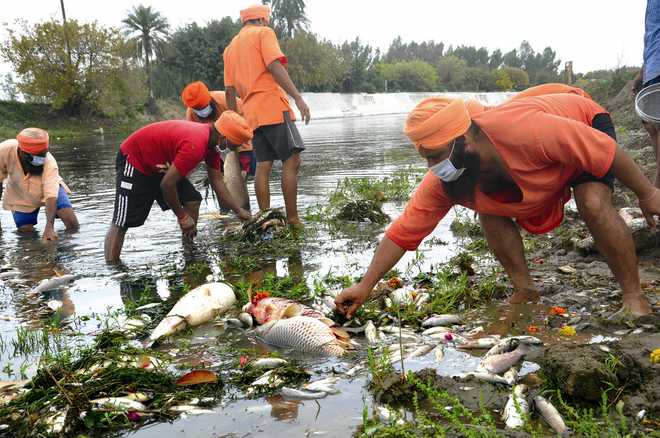 Aparna Banerji
Tribune News Service
Jalandhar, April 6
Two days after thousands of dead fish were found floating in the holy Kali Bein, the administration got its act together. It started the aeration process in the rivulet today.
Judicial proceedings have been initiated against Paramjit Singh, the Executive Officer, who holds the dual charge of the municipal councils of Sultanpur Lodhi and Kapurthala, for the lapses that caused pollution in the Kali Bein.
Officials say the fish died as oxygen level in the rivulet had fallen drastically since effluents were being dumped into the rivulet. An aerator was put into service by the Fisheries Department. It will pump the rivulet with oxygen to save the remaining fish. Potassium permanganate and sodium percarbonate were repeatedly sprayed into the waters to oxidise it. Environmentalist Balbir Singh Seechewal had also pressed motor boats into service to expedite aeration.
Chief Environmental Engineer, Jalandhar, PPCB, JS Majithia, said, "The situation improved after we took measures to improve the oxygen level in the rivulet. The rivulet got polluted as untreated water and sewage was flowing into it. Officials have stopped the flow of effluents. Sewage from Kapurthala, meant to be treated by the non-functional STP at Kapurthala, was also polluting the water. The EO has also been asked to restart the STP immediately."
Majithia said judicial proceedings had been initiated against the EO of Sultanpur Lodhi and Kapurthala MCs and the status report against him would be filed in the court to expedite the process. Kapurthala Deputy Commissioner DS Mangat also ordered the Irrigation Department to release 150 cusecs of water into the Kali Bein by Saturday.
Deputy Director, Fisheries Department, Raj Kumar, said, "The water in the rivulet had become acidic due to the constant inflow of effluents. With fresh water supply stopped, the oxygen level in the rivulet had drastically dropped. This is why the fish died." He also said too many fish in the water also led to the drop in oxygen level.
Seechewal said, "The inflow of sewage into the rivulet needs to be stopped. The authorities need to release fresh water into the rivulet on a regular basis so that it can sustain acquatic life." He also demanded that Section 144 be implemented around the Kali Bein so that people didn't dump toxins into the rivulet.
Among others, JS Majithia, Chief Environmental Engineer, Jalandhar, PPCB, Tehsildar Seema Singh, Deputy Commissioner DS Mangat visited the Kali Bein.
Top Stories