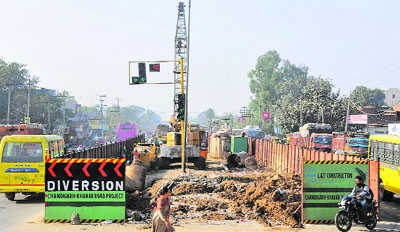 Akash Ghai
Tribune News Service
Mohali, December 13
After at least two designs being shelved and a series of widespread protests by residents of the area, construction work on the Mohali-Kharar flyover has finally started here. Since the Mohali-Kharar stretch is one of the busiest roads in the area, people have already started facing inconvenience due to the start of work on the flyover.
"The stretch is infamous for long traffic jams and fatal accidents. With the start of the construction work, the situation has started getting worse," said Ashok Sharma, a shopkeeper at Kharar.
He said due to the ongoing construction work, the road had become narrower at several points, causing hindrance to traffic. HS Mavi, another businessman from the area, said long traffic jams on the road were not new. "Earlier, there were traffic snarls during peak hours while now these can be seen even at odd hours," he said.
He said due to these traffic snarls, people, especially employees and schoolchildren, were bearing the brunt.
According to people of the area, the authorities should have come up with an alternative route or diversion before starting construction work on the flyover here.
"Under the plan, a 200-foot-wide Mohali-Kharar bypass has to be constructed behind Dara Studio. The authorities should have constructed it first. It would have helped ease the traffic problem on this stretch," said Ranjit Singh, a resident of Kharar. Area residents and businessmen said they would remain at the receiving end at least for the next two-three years till the completion of the flyover.
7.3-km flyover expected to be completed in 18 months
The 7.3-km-long flyover from Balongi to Kharar is expected to be completed within 18 months. L&T Constructions is constructing the flyover, which has been designed as a mix of "elevated and surface project". The flyover will end at the Khanpur T-point in Kharar. The estimated cost of the project is Rs 368 crore. According to a recent study, about 35,000 vehicles ply on the road on an average daily.
Top News
Police release new footage; 'Waris Punjab De' chief spotted ...
The case was filed against Gandhi for his alleged 'how come ...
Can't keep defaming people, democracy and the country and ex...
Lawyer Abhishek Singhvi discusses legal strategy with Rahul ...
In 2017, top court declared practice of instant triple talaq...