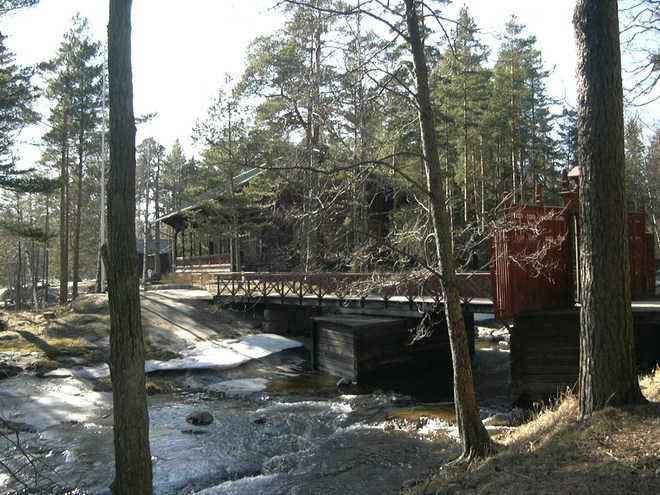 Salil Desai
Just like India and Britain, Finland has shared a love-hate relationship with Russia. The country gained independence in 1917, after nearly 100 years of Russian imperial rule. The Second World War led to a renewed confrontation between the two nations and the uneasy relationship persisted till the collapse of the USSR. Three unique symbols of this Finnish-Russian legacy today stand as heritage monuments, which many tourists love to visit. Here's a look at these
Langinkoski
The Russian czar, Alexander III fell in love with this quiet scenic spot on the river Kymi in Finland and ordered the construction of a holiday cottage for his family here. From 1889 to 1894, Alexander would come to Langinkoski often to enjoy fishing vacations with his family. This enchanting cottage is now maintained in its pristine condition by the Finns. Standing in beautiful isolation even today, the gentle murmur of the Kymi rapids makes it easy to imagine why the czar must have been captivated by the place.
Far removed from state worries, Alexander III would spend his time watching his men fish salmon. The monarch also loved to chop wood with his own hands, while his empress Dagmar would cook food in her 'state-of-the-art' designer kitchen. A great many original furnishings, tapestries and cutlery have been restored and tourists can get a first-hand glimpse of the trimmings of royal life more than a century ago. Amid the valuable collection in the museum is a blown-up copy of the signatures of the last czar of Russia, Nicholas II and his family dated 1906, including that of the legendary princess Anastasia, then a mere child.
Suomenlinna
A UN heritage site, Suomenlinna is a sea-fortress, just off the coast of Helsinki, Finland's capital, which reminds one of India's very own sea-fortresses like Janjira and Sindhudurg. Built in 1749 by the Swedes, who ruled Finland for seven centuries, Suomenlinna was expected to serve as a powerful bulwark against Russian aggression. The 20-minute boat-ride to Suomenlinna from Helsinki's Market Square even in early summer is a freezing experience, as the Baltic sea-winds lash you. Walking around the fortress is the best way to see it. The ramparts and huge guns facing the sea take you back in time, wondering how much blood must've been spilt on each stone.
Though considered impregnable, Suomenlinna fell to the Russians in 1808 as Finland changed hands from Sweden to Russia. The fortress helped Russia thwart a Franco-British fleet during the Crimean War, withstanding heavy bombardment. It also served as a Prisoners of War camp, when Finland plunged into civil war, following its independence from Russia in 1917.
Salpa Line
If Suomenlinna is an 18th century creation and Langinkoski a 19th century one, the Salpa Line aptly defines Russo-Finnish relations in the 20th century. It is a 1000-km fortification built by Finland between 1940 and 1944, along its border with Russia comprising 400 concrete bunkers, 350 km of trenches and 225 km of granite anti-tank fortifications. To older Finns, it is almost like their own, much humbler version of the Great Wall of China, if not in design and grandeur, then certainly in its scale, intent and symbol of national honour. The Salpa Line was actually never tested in battle. Nevertheless, it has proved talismanic for the Finns, since the Russians never attacked Finland again.
Top News
Public has returned Rs 3.42 lakh crore or 96 per cent of the...
This comes amid a diplomatic row between India and Canada ov...
Doraiswami was on Friday stopped by a few radicals from ente...
Safety and security of foreign diplomats is of utmost import...
Rinda died due to alleged drug overdose at a military hospit...