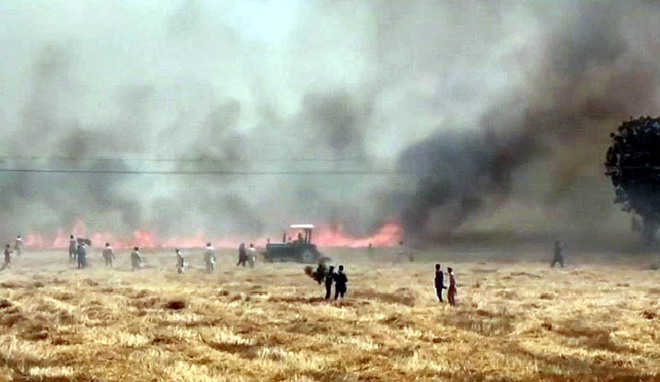 Tribune Reporters
Sangrur/Moga/muktsar, Apr 15
Fire destroyed standing wheat crop on about 200 acres in three districts today.
Crop on around 100 acres was gutted at Sukhpura and Dhilwan villages of Barnala district and on at least 50 acres at Manuke village in Nihalsinghwala subdivision of Moga district.
Wheat crop on about 44 acres was destroyed at Peori and Fattanwala villages in Muktsar district. A short circuit is said to have caused the fire.
"Sparking in a tractor's silencer caused the fire," said Jagjit Singh, SHO, Sehna (Barnala). Sources said the sparking occurred when a farmer of Sukhpura village turned on the tractor's ignition in a field. The fire spread within minutes, engulfing the surrounding areas.
Seeking compensation, the affected farmers alleged that fire tenders reached the spot late despite repeated calls.
Fireman Surinder Singh said negotiating the narrow stretches in the fields delayed the tenders' arrival.
In the Nihalsinghwala incident, preliminary inquiries by the police and revenue authorities revealed that the gutted crop belonged to Mohar Singh (16 acres), Gurmeet Singh, Joga Singh and Jaskaran Singh (five acres each) and Baldev Singh (seven acres), all Manuke village residents.
People from nearby villages of Didarewala, Barewala, Patto Hira Singh, Khote and others reached the spot and helped in dousing the fire with the help of local resources.
The exact cause of fire was unknown, but some villagers said it was due to short circuiting of power cables passing over the fields. Others claimed that it could be due to sparking of a circuit in the combine harvesting machine.
MLA Manjit Singh Bilaspur alleged that the fire tenders reached the spot after more than one hour. By that time, the locals had almost doused the flames themselves. The AAP legislator has demanded adequate compensation to the farmers who suffered losses.
Top News
Teams conducting raids to arrest the BJP leader
Jaishankar meets UN Secretary-General Antonio Guterres and P...
Canada is home to about 770,000 Sikhs - the highest populati...
Canada has alleged that Indian authorities were behind Nijja...