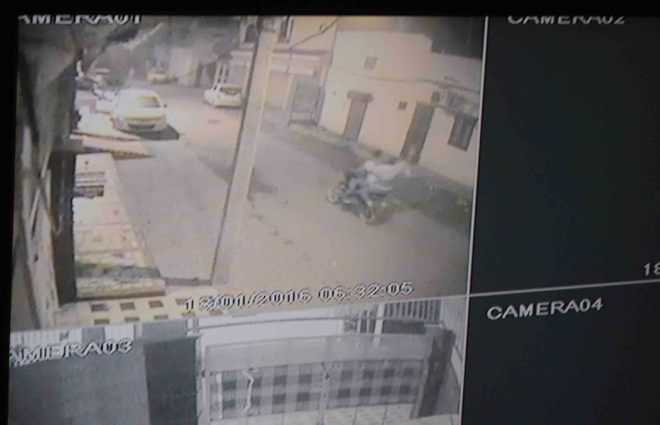 Tribune News Service
Ludhiana, January 18
An unidentified man fired shots at an RSS (Rashtriya Swayamsevak Sangh) shakha in Kidwai Nagar here this morning, triggering panic. The Commissioner of Police has formed a special investigation team (SIT) under Deputy Commissioner of Police (DCP) Narinder Bhargav to probe the incident.
Security has been tightened at all RSS shakhas.
Narinder Kumar, an RSS worker and resident of Kidwai Nagar, said the incident occurred at 6.30 am when he, along with his three associates, reached Shaheedi Park for holding the RSS shakha.
He said as his associates left for a senior citizens' home near the park, he spotted a man draped in a shawl standing in the park. The man pulled out a pistol and fired a shot at him but he was lucky to have escaped unhurt.
While Naresh Kumar and his aide Dharminder ran for cover, the assailant fled along with his accomplice waiting outside the park on a black motorcycle. Owing to the fog, there were not many morning walkers in the park at that time. No one was injured.
The assailants were caught on a close-circuit television camera (CCTV). The motorcyclist wore a monkey cap. The police is yet to identity the assailant.
Commissioner of Police Paramraj Singh Umranangal said a cartridge used in a .32 pistol was found at the site. Later in the day, he held a meeting of all station house officers (SHOs).
There is speculation that BJP district president Parveen Bansal may have been the target. Because of the fog, the latter could not make it in time for the shakha today. Yash Giri, an RSS man, said that in May 1991, two RSS activists were killed and 15 injured in a terrorist attack at the same site following which the park was named Shaheedi Park.
A case has been registered.
Top News
One Indian arrested in Czech in June, second Indian a govern...
External Affairs Ministry spokesperson Arindam Bagchi says I...
Also clears Pradhan Mantri Janjati Adivasi Nyaya Maha Abhiya...
Naresh Kumar who is due to retire on November 30
Peace agreement with UNLF by Centre and Manipur government m...