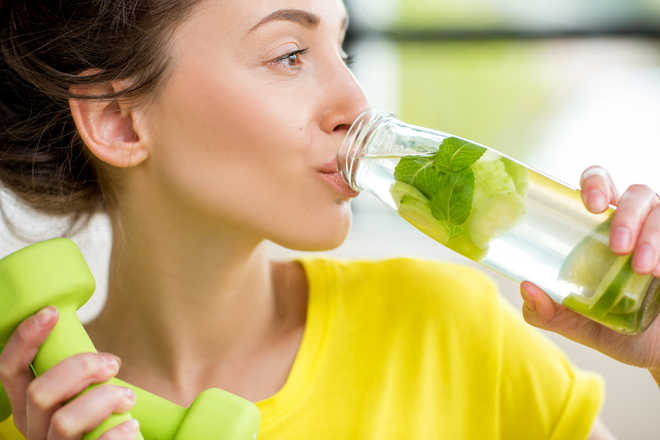 Mridula Wattas
Natural diuretics are foods or herbs that stimulate the kidneys to produce more urine and thereby help in removal of excess fluids and flushing out toxins from the body. Diuretics can also help in reducing swelling due to water retention in different parts of the body. Normally in such cases, conventional medicine practitioners prescribe diuretic drugs which may have their own disadvantages. Natural diuretics are usually safe and easy to include in the diet.
Benefits of natural diuretics
These foods can remove excess fluids from the body.
Such foods help in maintaining electrolyte balance in the body.
These also help in flushing out toxins and free radicals which may cause malignancies.
Regulate digestion and reduces bloating.
These foods provide potassium, magnesium, vitamins and other minerals.
Help in maintaining the blood pressure.
Reasons for water retention
No matter, how careful we are about our diet we do end up accumulating extra fluids in our body. The culprits may include the Chinese meal which one has enjoyed while eating out. Or it may be some packaged and preserved food, usually eaten due to shortage of time. Processed foods include a large amount of sugars and salts, added as preservatives.
In many women, water retention happens before their menstrual cycle. This leads to bloating and discomfort in the abdomen.
Another major factor is stress and lack of sleep that is quite common among working professionals and young people. Both lead to water retention in the body.
Due to our present-day hectic but sedentary lifestyles and varying degrees of digital addiction, stress, lack of sleep and bingeing on junk food have become almost permanent features of our life. Hence, it is a good idea to add some natural diuretics in our regular diet.
There are certain serious medical conditions like hypertension and congestive heart disease which cause fluid retention. Usually, diuretics are prescribed by the doctors to overcome water retention. In such cases it is best to consult your doctor before adding natural diuretics in your diet.
Nowadays, many dieticians are including natural diuretics in the weight-loss diet plans. This is a good way to lose the excess water weight of the body. In addition, these also increase the metabolic rate of the body which leads to faster weight reduction.
Some common foods that act as natural diuretics.
Liquids
Green tea: It is a natural diuretic and you can have two cups of green tea daily.
Barley water: Barley or jau is a millet. About two to three glasses can be consumed every day to speed up your metabolism and burn more calories. It can cure urinary tract infections and helps the body to keep cool during the summers. It lowers cholesterol and blood sugar, helps in digestion and aids in weight loss. To prepare, soak one tbsp barley in one and half glass of water over night. Simmer it for 10 minutes in the morning. Cool and strain.
Cumin (jeera) water: Cumin contains high amounts of iron, so the water can check anaemia and boost immunity. It boosts sluggish metabolic rate. It is beneficial for the liver and aids respiratory system because cumin is anti-congestive by nature, and helps get rid of the mucous accumulated in the chest. It can regulate blood pressure, as cumin is high in potassium. It can reduce blood sugar levels if taken on empty stomach. Jeera water also helps get rid of acidity and bloating, and provides relief from indigestion. It acts as a painkiller and is especially beneficial in curing stomach ache. Cumin water is good for pregnant women and new moms as it improves digestion during pregnancy and promotes lactation. Soak one tbsp of jeera in one and half glass of water overnight. Boil, cool and strain. It is best to drink it early in the morning on an empty stomach.
Fennel water: Fennel (saunf )water is beneficial in checking constipation, indigestion, irritable bowel syndrome and bloating. The water can aid with bronchitis, congestion and cough as fennel seeds have expectorant properties. It helps purify blood and check free radicals. Boil one tbsp saunf in one glass of water for 10 minutes. Cool and strain.
Lemon water: Lemon is a good source of vitamin C, which is an antioxidant that helps protect cells from damaging free radicals. It aids in digestion and boosts immunity. It may reduce inflammation, risk of heart disease and stroke and lower blood pressure. It may also help prevent kidney stones Squeeze one lemon in a glass of water and drink without any salt or sugar.
Apple cider vinegar: It can reduce blood sugar and cholesterol, helps in weight loss. Mix two tbsp in one and half glass of water and drink.
Other liquids like beetroot juice, cranberry juice and coconut water are also good natural diuretics.
Fruits
Fruits such as watermelon, pineapple, lemon, peach, pears and apple have large water content and act as diuretics.
Vegetables
Vegetables like cabbage, tomatoes, carrots, raw cucumber, lettuce, celery, parsley, egg plant, pumpkin, cauliflower and beets are good diuretics.
Herbs
Tulsi leaves, garlic, ginger and spices like cinnamon act as diuretics.
The Bottom-line
Taking diuretics in the form of drugs may cause side-effects like weakness, dehydration, tiredness, etc. Natural diuretics not only help in removing excess fluids from the body, but these also provide many vitamins, antioxidants and vital minerals which help in keeping your body fit and healthy.
— The writer is former Head, Department of Dietetics, PGIMER, Chandigarh