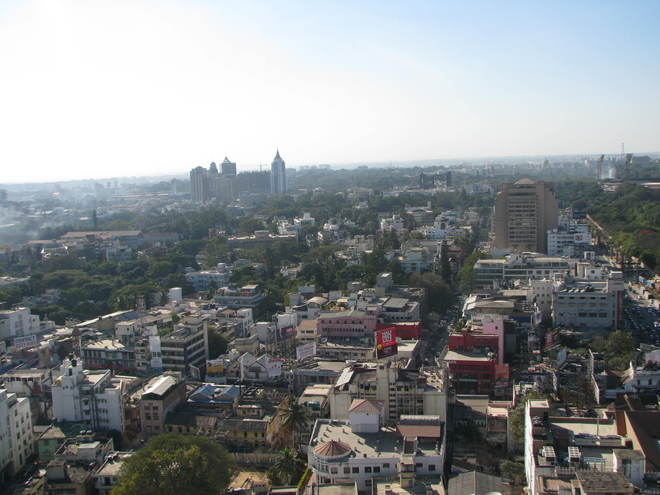 Bengaluru has emerged as one of the few real estate markets in the country that have not only managed to withstand the overall slowdown in the sector but also shown appreciation and growth. With almost 500 projects launched in 2013-2014 having over 70,000 units, the IT hub of the country is buzzing with real estate activity.
Though it is primarily an end-user driven market, luxury housing has also flourished here with a majority of developers going in for luxury projects by incorporating global elements and world class features into their projects to cater to the needs of the buyers. "The steady growth pattern of the real estate market has made Bengaluru an attractive destination for buyers from the northern region also, especially from Punjab", says Reeza Sebastian, Head, Residential Marketing & Sales, Embassy Group, while adding that there has been an increase in queries from HNI buyers from Punjab regarding luxury properties in and around Bengaluru. Embassy Group is one of the leading property developers in Bengaluru and one of the major players in this segment that has completed nearly 5.9 million sq ft of residential spaces over the past 29 years. The group has launched five luxury residential developments over the past 2-3 years. On a visit to Chandigarh to showcase the group's latest projects in the northern region Reeza talked about the luxury quotient of Bengaluru and the emerging investment destinations there. Excerpts:
What have been the major growth drivers for Bengaluru realty market?
With Rs360 billion of primary yearly sales, this is the only city that has witnessed an increase in its market size (4 per cent) from last year. The city being the 'Silicon Valley' of India is a growing market in terms of geography. With many software parks coming up here and major IT companies setting up offices here, new catchments for all types of luxury housing are being created. IT boom is driving the demand here as the workforce of these companies need world class abodes. According to estimates the growing IT-ITES sector will generate over 5 lakh additional job vacancies by 2025, which would boost demand for quality housing manifold. Professionalism and timely completion of projects are the factors that have strengthened the customer confidence here. In 2014 alone as many as 500 projects were completed and delivered here and the city has the lowest inventory overhang among all the other metros. Besides this the government, too, has given an extra thrust to infrastructure development in and around the city because of which connectivity has become faster and better living conditions are available to people. This is a city where the growth of the luxury and super luxury residential segment is likely to continue unchanged for many years to come.
Which segment has more demand in the city?
Bengaluru is basically an end-user driven market. Though the luxury segment is selling well, primary demand is for mid-segment as a majority of buyers and end users are professionals working in the IT, ITES companies here. They generally look for 2 and 3 BHK units in the size range of 1,400 sq ft to 3,000 sq ft. Oflate we have also seen a spurt in demand for smaller spaces as well as independent plots.
Why residents of Punjab should consider investing in the city?
Traditionally the Bengaluru real estate market has had a very strong connect with buyers from Punjab as it has been the favourite destination for investors from the state looking for luxury housing options beyond Delhi-Gurgaon. The city not only has luxury housing options but also has a lot to offer to those in the mid-segment. The prices at present are comparable to those in Delhi-Gurgaon but the growth potential is much more in Bengaluru than it is in these two cities. For instance a 2,100 sq ft plot in Embassy Springs project that is being introduced in Chandigarh-Punjab market is available for approximately Rs84 lakh. Being a cosmopolitan city with a variety of social infrastructure Bengaluru has a lot to offer from luxury lifestyle perspective.
Which are the upcoming areas in and around the city ?
The fastest growing geography currently is the North Bangalore. It is a high potential area that has seen high capital appreciation and almost 38 per cent growth over the past few years. It has locational advantage because of proximity to airport and IT area with offices of companies like TCS, Wipro, Shell etc in the vicinity besides Devanhali Business Park and 900-acre Aerospace SEZ. The infrastructure is also very good here and with the completion of the elevated expressway it also scores higher on the connectivity front.
Which are the upcoming projects of your group?
Upcoming projects include: Embassy Boulevard on Bellary Road; Embassy Lake Terraces near the Hebbal Flyover,; Embassy Grove on Old Airport Road and Embassy Springs in North Bangalore near international airport which is a 300-acre township that will have 3,000 apartments, 1150 plots and 200 villas. — GV
Top News
The former military ruler had left Pakistan in March 2016 fo...
After his failed misadventure in Kargil, Musharraf deposed t...
Military shoots down the surveillance balloon in Atlantic Oc...
The incident took place on Friday when Kambli reached his fl...
CM said only manual excavation of sand will be permitted in ...