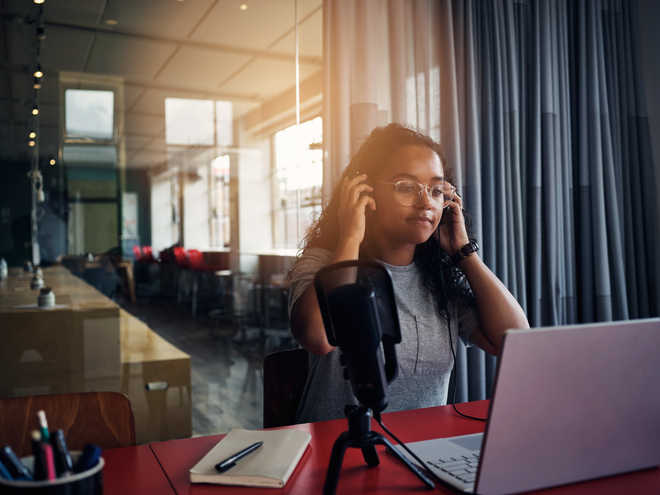 India, a decade ago had very limited choices in everything from ice-cream flavours to what was considered a successful career path. However, today there are several off-beat career avenues to choose from. People are looking beyond the mainstream field of engineering or medicine while accepting unconventional professions as full-time jobs. These career avenues look at aptitudes and prize every individual's uniqueness rather than associating their merit to a certain percentage of marks (unlike mainstream careers). Students who are driven by new things and want to take the road less travelled, can choose an unconventional career. Some of these are as follows:
Podcaster
Those good at engaging people by talking don't necessarily need to look for a job opening at the radio station. They can start podcasting on their own by making digital recordings and sharing these on the internet for people to download. One has to brainstorm to come up with great ideas and be constant in sharing their podcasts.
There are many podcasting platforms like Hubhopper (India's largest podcast and audio-on-demand platform), which is drawing people to this career option. Now with the recently launched online studio by Hubhopper, anybody can be a successful audio content creator in India. One can record one's audio content, and get it published widely for free through Hubhopper's distribution network. In fact, one can also get the content monetised by connecting with the right brands. This is attracting many individuals to take up podcasting as a full-time job and adding them to the podcaster community, which covers diverse topics.
Stand-up comedian
Getting paid for making people laugh is probably the most satisfying career choice that one can make. That is, if you have a great sense of humour and are witty enough to apply it as and when needed. Most importantly, it requires high confidence as you have to perform in front of a live audience, mostly in a conversational tone. This art as a career option is maturing rapidly in the country. Some of the popular stand-up comedians are Aditi Mittal, Kenny Sebastian, Radhika Vaz, Vir Das, Aziz Ansari, etc.
Trek leader
Some people develop a love for trekking from a young age. Apart from developing resilience and grit, they are altruistic and have a team spirit. These are the people who can go on to perfectly fit the role of a trek leader.
There are many mountaineering clubs across the country, which can help those who have the aptitude in this field.
These are some of the options, which are liberating individuals to make their own career choices. These are breaking prejudices, which the clichéd curriculum and mark sheets have been etching in people's minds and empowering them to do what they truly love.
Storyteller
India has from time immemorial been known as the land of stories. Bards and their ballads have always had an appeal among people. Today, the scope of storytelling has widened and the audience is willing to pay any amount of money for a good story.
When narrating a story, if you have what it takes to keep your audience hooked, you are already a successful story teller. The narration is not just limited to one single written medium as earlier. With innovation in technology, it is possible to narrate a story even through remote locations with low data connectivity. For example, Hubhopper is providing the guidance and technology tools to emerging storytellers across India who can monetize their content.
Cosplay
As younger generations in India are highly driven by popular culture across comics and television, cosplay is gaining prevalence at least in tier 1 cities of the country. Cosplay is a performance art in which fans/ artists can wear costumes and accessories to represent a particular character. First picked up in Japan and the US in the 1970s, cosplay is seen as a way to unleash creativity as well as earn by entertaining people at various events. Event managers are teaming up with big film and television studios to host cosplay shows to promote or sell merchandise and increase the number of fans.
Comic Con India conventions are the leading platform for cosplayers to showcase their creativity and earn prizes. This platform has huge footfall, mostly the youth and have great marketing potential. This trend is also giving rise to costume designers.
Top Stories