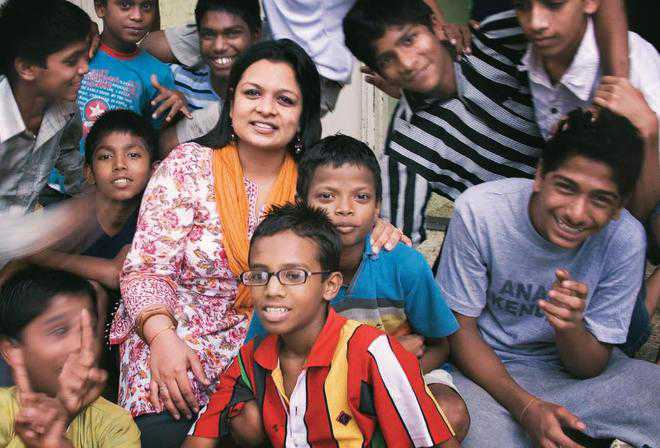 Kavita Kanan Chandra
When children in a Mumbai school are given a questionnaire to be filled on Personal Safety Education (PSE) Programme, the answers by children are frank and innocent.
Simple questions like what makes them happy, sad, angry, scared and confused and what they do when faced with these emotions might look innocuous but it is their answers that make all the difference.
Counsellors from Arpan, an NGO working for the safety of children and striving towards a world free of sexual abuse, know where intervention is required. The entire programme is conducted with lots of games, fun activities, storytelling and illustrations so the message of personal safety reaches the children in an entertaining way.
The founder and chief executive of Arpan, Pooja Taparia, and her team of 60 professionals work passionately on many such awareness programmes and services.
Children could be potential victims, so PSE is an innovative method to empower children with personal safety skills so that they can save themselves from becoming victims of unsafe touches and emotional trauma. "Children look forward to these sessions and want to know more about it. They are curious and come with funny, smart and serious responses," says Pooja. However, what pains her is the physical violence that many children undergo, especially those studying in BMC (Municipal Corporation) schools.
Founded in 2006, Arpan also provides therapeutic support to children who disclose their past experiences, or ongoing abuse, to help them overcome the psychological, social, sexual and physical impact. It conducts various activities, workshops, teaching, training and counselling services to deal with child sexual abuse (CSA).
It was while watching a play on child sexual abuse that Pooja she decided to address the issue head on. The trauma of the victim and the psychological impact it cast on the victim's everyday life even when they grow up was disturbing. Written by acclaimed playwright Mahesh Dattani and enacted by theatre veteran Lillette Dubey and Neha Dubey; the play 30 Days in September was a bold depiction of child sexual abuse and its psychological impact. Even when the civil society shied away from talking about these brutal realities, the play addressed some shocking aspects. It was based on case studies of actual victims as reported by Delhi NGO RAHI (Recovery and healing from incest) working on the issue. The matter was serious and required awareness.
Pooja approached several social organisations and researched about CSA. She started working with a social worker Pushpa Venkatraman and also started conducting workshops. Her first talk in a Rotary Club received lukewarm response. "In the beginning when we took up the issue of child sexual abuse, there was much denial, but slowly as awareness about the problem is spreading, there is acceptance," says Pooja.
It was usually difficult for people to accept the fact that CSA existed and that too not just around us but even inside our homes and being perpetrated by persons known to children. It was disturbing for the parents, but it was important to talk about the issue for there was not much data in this regard. Very few NGOs were working on this issue and there was hardly any media coverage.
The Ministry of Women and Child Development had come up with a one-of-a-kind child sexual abuse report in 2007. It had surveyed a sample size of 12,447 children spanning over 13 states. Though not methodologically accurate, it was an eye-opener for the country as it reported that as high as 50 per cent of children had suffered sexual abuse in their lifetime.
The enactment of Protection of Children from Sexual Offences Act (POCSO) 2012 is a step forward. "It helps register cases and helps in conviction," says Pooja. Earlier the IPC didn't cover CSA so it was difficult to register a complaint against the abuser.
Arpan has not only helped spread awareness on the issue but has intervened directly to help over 1 lakh children and adults. And through training and advocacy, it has helped three lakh individuals.
Initially, Pooja used to find it upsetting to deal with child victims of violence and sexual abuse. However, she has not only learnt to cope with it, she devotes all her time and energy for the prevention of CSA and hopes the world become a better place for the children.
Programmes by Arpan to address child sexual abuse
Personal Safety Education: Children who report cases of attempt or continuing sexual abuse are provided psychotherapeutic support for healing. Their family members are also counselled. The PSE are conducted in schools, shelter homes, NGOs, institutions and large community.
Healing services: Arpan provides long-term psychotherapy to rescued minors in residential shelter homes and the care-givers are also counselled. Other children and adult survivors are given help at Arpan centres (Goregaon, Vasai, Vile Parle and Bhandup).
Awareness sessions: Child sexual abuse awareness sessions are held for parents, teachers, college students, NGO workers, police and medical professionals.
Capacity building: The NGO trains teachers, NGO professionals, mental health professionals and social workers so they could work for prevention and healing of victims and survivors of CSA.
Resource development: Arpan is also designing various tools, resources and modalities to scale and replicate their services across geographies and socio-economic and cultural groups.
Top News
Action taken under relevant Section of Unlawful Activities (...
Says wants it to commit constructively to establish facts
Blinken says it is 'important for India to work with the Can...
Harpal Cheema responds to Governor Banwarilal Purohit's lett...
Pawar and Adani first inaugurated a factory at a village in ...