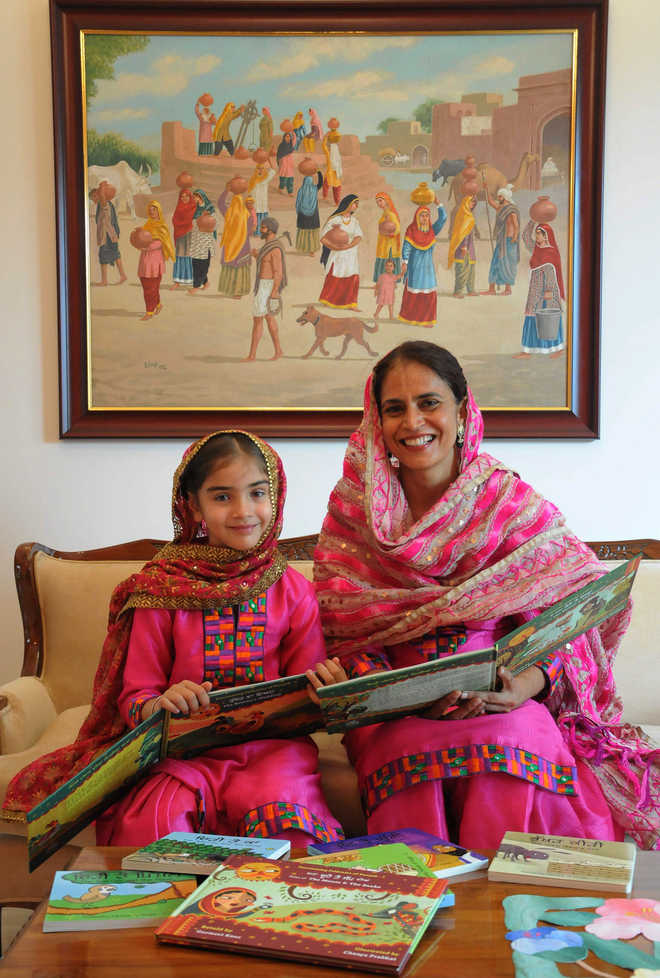 Sarika Sharma
Gurmeet Kaur is not being rude but says Punjabi kids have no love for books. She is saying this after her weeks of travel through the state.
"Phones and television have taken over their lives," jumps in her six-year-old daughter Liv Kaur. The little one, who is on her first visit to India from the US and has a Polish father, surprises one with her chaste Punjabi. Dressed in a salwar-suit and carrying a duppatta, she floors you with her ease with the language. You gush when she stresses on the 'correct pronunciation' of pippal and hints at the lack of it here in Punjab schools.
For Gurmeet, a software architect-turned-writer and publisher of Punjabi books, this trip is an attempt at acquainting Liv with her culture. But she is also here for inculcating reading habit among Punjabi children, or at least try doing that. During the visit, she visited a number of private and public schools. By the end of it, as she sits talking to us, she has some observations to make: One, government schools in Punjab are better off when it comes to children knowing their mother tongue. Second, private school kids have no language of their own. "The latter, I feel, are the most unfortunate. In school, they are told to speak in English, an acquired language. In the society, they communicate in Hindi, which is not their mother tongue. Sadly, Punjabi is encouraged neither at school, nor at home. A friend calls them bezubaan peedhi, the generation without a voice. And this is so true. When they are not connected to a language, their minds are shut and their imagination is limited," she says.
With the government school students, she noticed that kids who were twice Liv's age mixed up muharni and thus pronunciation. "And they couldn't identify a tippi from a bindi," she says. But she is also glad that the trip shattered her perception about government schools in Punjab. She says the kids were sharp. "They could read and enjoy the books I brought along with me."
For the general lack of love for books, she blames the "lack of reading culture" amid the Punjabi community. "The only way to inculcate that culture is to start with children. They are today bombarded with electronic media; their attention span to reading has diminished considerably. The children's literature in Punjabi not only has to compete with literature in other dominant languages a child is surrounded by, but also with the electronic entertainment that they have free access to.
This "lack of reading" culture is also a challenge in the distribution of the books, she points. "Punjabis prefer to spend money on clothing, jewellery and media, but not on books. I believe in old fashion bonding with a child, with a book, in a quiet time; so that the books become their friends for a lifetime. That is why I published my content strictly in the form of books."
Back home, she volunteers her time to teach Punjabi to the children of the Punjabi diaspora . Her four-year-old Punjabi Immersion School has 23 students learning the language from her on the weekends where she uses poetry, songs and stories to teach. And she believes in practising what she preaches. Her son, Angad, who graduated from Columbia University, New York, studied Punjab school board books till fourth grade. She wants Liv to finish till class XII.
Before Gurmeet came here, she also wanted to see if there was a market for her books in Shahmukhi. But looks like Punjab has a long way to go. It needs to first love its mother tongue.
---
Stories for her daughter
Gurmeet Kaur says her daughter has become a brand ambassador for her books on this trip. She has been telling people how the stories are in Punjabi but transliterated in Hindi and have a glossary at the end for those who "don't understand something". Liv, was in fact, who sent this software engineer on the path of publication. She was expecting her when, at the baby shower, her friends gifted her English books. Her husband was, meanwhile, building his own library of Polish books for her. "These books were out of the world but they didn't speak to my soul. My eyes kept searching for the ones that were missing from the collection. Not one of the books I received was in my Ma-Boli, Punjabi," she says. She set out to first find books for her and, on finding none, started publishing them. The challenges ranged from finding the right story to the right illustrator, retelling them both in Punjabi and English. But the most difficult part was publishing, marketing and sales. "I like to create. Business is not my forte. I had to self-publish these books because my standards are high thus raising the cost of the project. No publisher wanted to deal with an unknown experiment at the time. But the response from readers has kept me going."