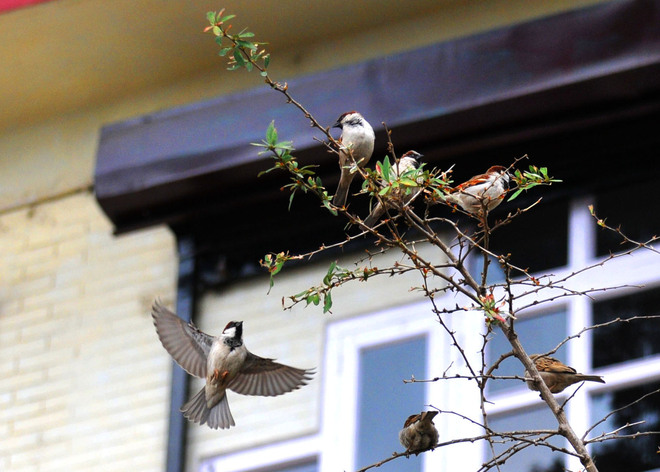 Pratibha Chauhan
Tribune News Service
Shimla, June 12
The shrinking green habitat areas and adverse impact of the electromagnetic radiation from mobile towers seem to have taken a toll on the commonly spotted house sparrows as the Bombay Natural History Society (BNHS), an NGO, and the Wildlife wing are taking a close look at the aspect of their dwindling population.
They will formulate a conservation strategy for their survival. This is the first-ever scientific study being undertaken to establish the declining population of the sparrows, not so commonly sighted in big colonies as these used to be earlier.
In February this year, birds have been ringed with metal and colour rings to identify them and monitor their survival at the hot spots having a dense population of house sparrows, including the aviary at Chaura Maidan here.
The presence of house sparrows has been far less in areas where there are mobile towers, a fact indicated earlier also.
"The preliminary results of the study have indicated that the house sparrow population has declined with a number of factors such as reduced herbs and shrubs, shrinking open space such as vast courtyards and grounds and possibly the electromagnetic radiation from mobile towers," said JS Walia, Principal Chief Conservator Forest (Wildlife). He added that conclusive results would be obtained after studying the behaviour of sparrows over a longer period of time.Environmentalists and wildlife experts have been echoing their concern over the declining population of house sparrows and terming the phenomena a fallout of various factors, including climate change and global warming. Chief Minister Virbhadra Singh had asked the Wildlife wing to undertake a scientific study to ascertain the reasons for their declining number.
Under the guidance of experts from the BNHS, the officials of the Wildlife wing are closely monitoring the adult survival, hatching trend and fledgling success. The hot spots which have a high concentration of house sparrows have been identified and are being monitored. It is based on the final findings of the study that the Wildlife wing of the Forest Department will formulate a conservation strategy, including creating more habitats.