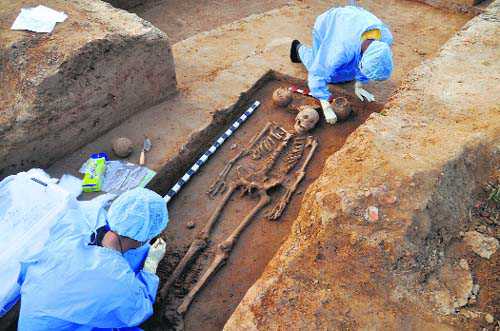 Deepender Deswal
Tribune News Service
Rakhigarhi (Hisar), April 13
Four human skeletons dating back to the 5000-year-old Harappan era have been recovered from a cemetery located at Rakhigarhi village in Hisar.
Enthused at the recovery of well-preserved skeletons, archaeologists hope forensic scientists will reconstruct the DNA extracted from bones to help decipher the history and origin of the human settlement, which is part of the Indus Valley civilisation.
Pune's Deccan College in collaboration with the Haryana Archaeology Department and Seoul National University, South Korea, have been carrying out excavation at the site since January 23. A forensic team from Seoul led by Professor Dong Hoonn Shin will arrive in July to process the sampling of the skeletons for obtaining the DNA. Prof Nilesh Jadhav, co-director of the project, along with his team of research scholars — Yogesh Yadav, Malavika Chatterjee and Shalmali Mali — recovered the skeletons at mound No. 7 in Rakhigarhi.
Jadhav said: "The skeletons of two adult males, a female and a child have been found. With the help of forensic experts, we will try to reconstruct their DNA. We tried doing the same with the help of a Japanese anthropologist five years ago, when a Harappan-era graveyard was discovered at Farmana village in Rohtak district, but failed. Now, scientists from South Korea, equipped with advanced technology, will attempt to reconstruct the DNA." Malavika said they also found potteries and other belongings at the site.
Ranvir Singh, deputy director, Haryana Archaeology Department, said though they had recovered 70 skeletons at the Farmana site, they could not extract their DNA because the skeletons were damaged due to the presence of calcium in the soil. "The soil at Rakhigarhi is sandy so the skeletons are better preserved here," he said.
Vazir Singh, a Rakhigarhi resident who has been assisting the team, said the discoveries had established that the site used to be a mega city during the Harappan era.
Top News
45-50 people, including women and children, were on the bus
Another encounter at Moolu in the same district is in progre...
Appreciates India's humanitarian aid; Modi's 'this is no tim...
Police have described the suspect as being armed and dangero...
Person of interest in custody, 4 victims still missing