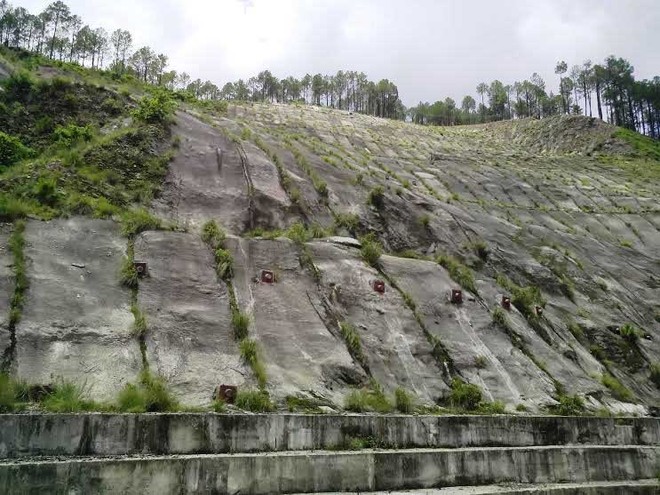 Ajay Ramola
Tribune News Service
Uttarkashi, July 19
Deep cracks appearing on Varunavat Parvat above the Tambakhani tunnel in Uttarkashi district have led to continuous landslides due to heavy rains, resulting in road blockades. Fresh cracks on the platform that was constructed as part of a mountain treatment project to stop landslides above the Tambakhani tunnel have instilled fear of more landslides among residents of Gyansu and Indira Colony. Small cracks had surfaced a few days ago and these expanded alarmingly due to continuous rain, said residents of Indira Colony.
A team of experts also visited the site on Saturday and found that the a 25 metre and 4 to 5 inch wide crack had appeared at the foot of the mountain that is already under threat of sinking since 2003.
Geo-scientists, KS Sajwan and Sushil Khanduri, said the fresh cracks were dangerous for Varunavat Parvat that was already in the high risk list in the region. They lamented the fact that the present situation had arisen due to the incomplete treatment work on the mountain. They said the team would send its detailed report to the administration as early as possible.Meanwhile, Uttarkashi District Magistrate Indudhar Bodai has issued orders to block the road in front of the Tamba Khani tunnel. However, there is no traffic stoppage at the site and vehicles are passing freely through the tunnel. A massive landslide at Varunavat Parvat in 2003 had damaged around 80 buildings, affecting around 3,000 persons living under it. About Rs 282 crore was allocated for the treatment of the mountain and rehabilitation of the people under it but nothing had been done so far.
The treatment of Varunavat Parvat was completed in 2008, though only on papers, leading to fresh cracks years later. Disaster management officials say spare funds from the mountain treatment budget given during the tenure of the Atal Bihari Vajpayee government at the Centre was returned without completing the work.
Residents say erratic treatment work done then has resulted in landslides at Tambakhani. They demand proper treatment of the mountain without further delay and an investigation into the incomplete work done earlier.
Top News
Lhonak lake breaches banks after cloudburst, triggering mass...
About unifying the Armed Forces: A theatre command entails h...
Third party leader to be arrested | BJP says Kejriwal 'real ...