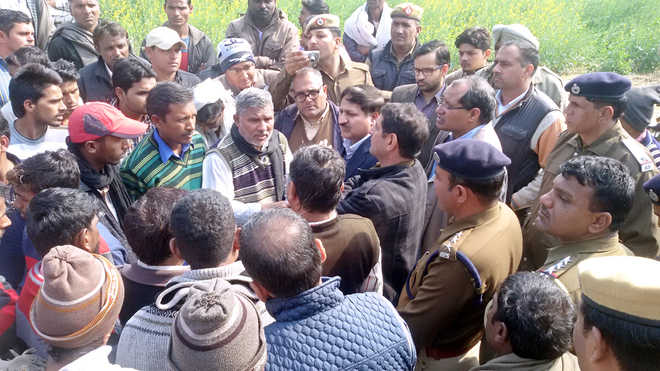 Deepender Deswal
Tribune News Service
Hisar, January 31
Nearly seven years after scores of Dalit families fled Mirchpur following a clash with upper caste Jats, a similar exodus appeared to have begun after fresh violence between the two communities last night. Around 40 families left the village today despite assurances by the district authorities of "foolproof security". Around 100 villagers had reached Hisar town in two buses by the evening.
As in 2010, yesterday's violence too was the fallout of a petty issue, which snowballed into a major clash that left four Dalit youths injured.
(Follow The Tribune on Facebook; and Twitter @thetribunechd)
Complainant Tej Bhan alleged that Shiv Kumar, a Dalit youth, had two days ago won a 1,600 metres race event, which saw participation from all castes. "Probably those beaten in the race could not digest a Dalit edging past them... a scuffle began when a group of Jat youths hurled casteist slurs at Shiv at a cyccling event last night," he said.
When Shiv objected, he was attacked by around 40 persons, alleged Bhan. Ajmer Kumar, a Dalit, said they would return to the village only after the government fulfilled their demands.
In April 2010, two Dalits were charred to death following a fight between the two communities over the barking of a dog. A fragile truce was restored by CRPF, which was withdrawn two months ago. The fresh violence has raised questions over the move to withdraw the security force.
Deputy Commissioner Nikhil Gajraj denied it was a caste clash, saying among those arrested, one each was from Brahmin and Lohar castes while the other two were Jats.
Sarpanch Satyawan too claimed it was a clash between youngsters and was "unnecessarily being given a caste colour". Superintendent of Police Rajender Kumar Meena said additional forces had been rushed to the village, and that the situation was under control.
Meanwhile, following state minister Krishan Bedi's assurance, Dalits agreed to return to their village. Bedi assured them that the state government would consider their rehabilitation demand after the assembly poll in five states.
Top Stories