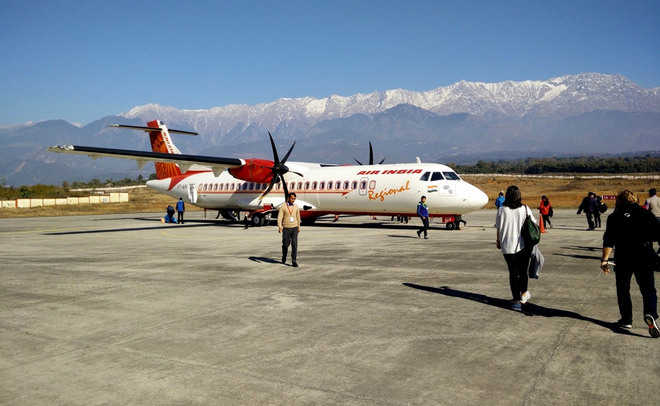 Lalit Mohan
Tribune News Service
Dharamsala, May 17
Gaggal airport in Kangra district has become busier. Now four flights are reaching Gaggal airport daily. It is for the first time that four flights are operating from any airport of Himachal each day.
Director of the Gaggal airport, Parwinder Tiwari, said SpiceJet that was earlier operating three flights to Dharamsala. One more flight for about 45 days has been added. Now, there will be three flights of Spice Jet and one flight of Air India daily from Dharamsala to Delhi. The fourth flight to Dharamsala is likely to be continued in case the business remains good here Tiwari said.
He said that equipment that can reduce the minimum visible runway length for any plane landing at Gaggal airport from 5,000 metres to 2,400 metres is being installed. The Directorate General of Civil Aviation (DGCA) has fixed minimum visible runway length for any plane landing at Gaggal airport at 5,000 metres. Due to it many flights could not land at Gaggal during monsoons as the weather remains misty in that season. With the installation of the new equipment that would reduce the minimum runway visibility criteria to 2400 metres for landing planes the cancellation of flights to Gaggal would be reduced considerably, Tiwari said.
He said the Himachal government had imposed a 5 per cent entry tax on the equipment being brought to Gaggal for reducing landing visibility criteria. "We took up the matter with the Chief Minister, Virbhadra Singh and Minister for Transport GS Bali. Now the government has decided to waive the entry tax on the equipment", he said.
Tiwari further said that refuelling facility had been added at the Gaggal airport. Earlier since no refuelling facility was available, the flights moving out from Gaggal had to operate at just about 80 per cent carrying capacity.
The Dharamsala-Delhi flight was among the costliest in the country. Last year during the peak season the one-way air trip from Dharamsala to Delhi cost up to Rs 21,000. Now though there are four flights from Delhi to Dharamsala daily, the cost of one-way trip remains above Rs 10,000.
The sources here said while the flights to Jammu and Kashmir and Northeastern states were subsidized by the Government of India, no such concession was available for Himachal despite it being a hill state. In Himachal like other parts of the country the companies are free to decide to airfares as per demand-and-supply situation.
Minister for Transport GS Bali said since no railway network was available in most areas of Himachal, the state government would also request the union government to subsidize the flights coming to the state. If the fares of flights coming to the state are subsidized it can significantly boost the tourism potential.