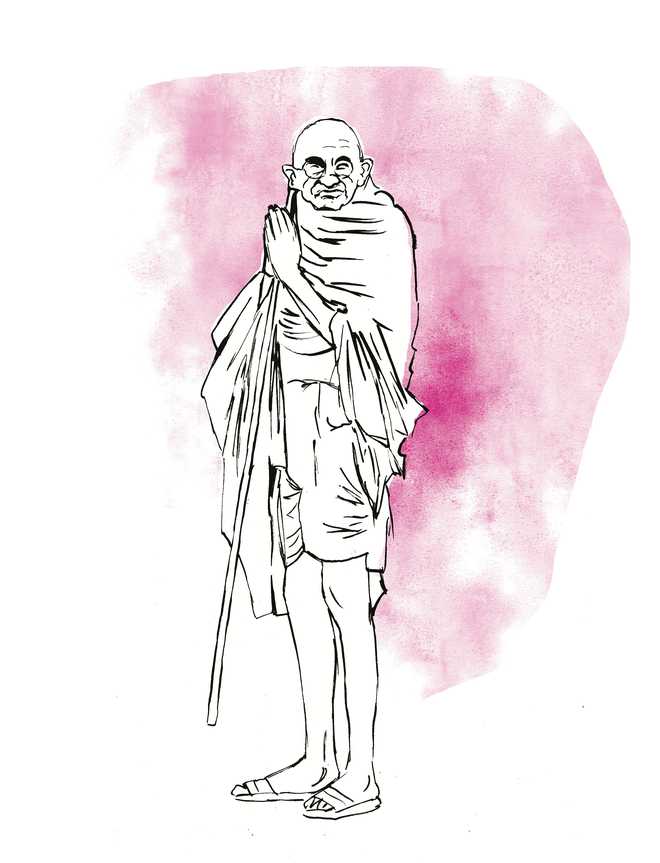 M Rajivlochan
To be fair to Gandhi, even the Indian National Congress was remarkably silent on the atrocities heaped upon the people of Punjab by the colonial government. If anything, the "Moderates' Conference" held on the May 1, 1919, in Calcutta, which was attended by stalwarts like Tej Bahadur Sapru, Surendranath Banerjea, Chimanlal Setalvad and others, too, refused to condemn the massacre at Jallianwala Bagh and, merely asked for an administrative inquiry into what it called were 'disturbances' in Punjab
Gandhi was in awe of Punjab. Punjab wasn't as much in awe of Gandhi. Gandhi believed, as he said in his lectures on Hinduism at Johannesburg in 1905, the Sikhs were a different religion, followers of Nanak, with their origins in Hinduism, militaristic and brave in nature, yet committed to non-violence.
The peasant agitation which broke out in 1907, under the leadership of Sardar Ajit Singh and Lala Lajpat Rai, made him uncomfortable. "This is a critical time for India", commented Gandhi as he shared the news of peasant riots in Punjab with the readers of his newspaper, Indian Opinion. Gandhi at this time was in South Africa, himself initiating a mass movement against the colonial government. His strategy of Satyagraha had been formed after much thought: fighting for justice by reiterating a demand for morally correct issues, and consciously abjuring violence. Gandhi would say with some trepidation about Punjab, "We wait and watch".
This was the time when the extremists within the Congress, led by Lala Lajpat Rai, Bal Gangadhar Tilak and Bipin Chandra Pal (the famous trio of 'Lal-Bal-Pal'), had condemned petition-mongering by the Congress. They demanded Swarajya (self-rule), and insisted on violent methods to achieve their ends. This made Gandhi uneasy. "They appear to be in error in so far as they want to eliminate British rule", he would again write in the Indian Opinion. By the summer of 1907, army commanders reported that under the influence of Ajit Singh and Lala Lajpat Rai, the soldiers, most of whom were connected to the Canal Colonies, may rebel. The government arrested both the leaders and deported them to the Andamans.
Their release in November 1907, and the scrapping of the offensive laws, was hailed by Gandhi as a "great victory". His fear of Punjabi aggressiveness gave way to appreciation of Punjabi restraint in the face of extreme provocation by the government. "We must learn from this," he informed his followers in Transvaal as he urged them on to a path of non-violence and passive resistance in their struggle for greater dignity in South Africa.
Gandhi suffered a severe jolt when the people of Punjab used Gandhi's call for the Rowlatt Satyagraha (in April 1919) to start a mass movement, laced with violence, to oust the British from government. Large bodies of agitators attacked government facilities amid shouts of Mahatma Gandhi ki jai and, Hindu-Mussalman ki jai. Reports streamed in of trains being derailed and Europeans living in fear. Whatever Gandhi might have felt about the violent happenings in Punjab under the aegis of his movement was over shadowed by the news of the Jallianwala Bagh massacre in which a large number of innocent and peaceful people were shot in cold blood.
No compromise on ahimsa
Three days after the Jallianwala Bagh massacre, when Swami Shraddhananda, the Delhi-based Arya Samaji, queried Gandhi on the proper course of action, Gandhi insisted that Satyagrahis had no business violating the principles of passive resistance and ahimsa. Upon hearing this, Shraddhanada dissociated himself from Gandhi. He would tread an independent path henceforth.
During this time Gandhi was already worried about the looting, rioting and murders that had accompanied the Rowlatt Satyagraha in Ahmedabad, Viramgam and other places in Gujarat. Over 250 were wounded and 50 killed in police action in Ahmedabad alone. Gandhi, as late as April 25, 1919, merely reiterated that he did not "blame the government for this". Instead, he made offers, to the government, of monetary compensations by way of reparations to the families of Europeans who had been murdered by the Satyagrahis.
A very worried Gurudev Rabindranath Tagore penned a letter (c. April 17, 1919) at this juncture warning Gandhi to ensure that "martyrdom for the cause of truth may never degenerate into fanaticism". Tagore also released the letter to the press, perhaps as a warning to the people of India who had been once again swayed by the desire to rid themselves of British rule.
Annie Besant, then the president of the Home Rule League, went a step further in condemning Gandhi for the violence in a statement that she gave out to the news agency Associated Press on April 17. She advocated that India's well-being was best served by remaining under British rule. The next day Gandhi announced the suspension of passive resistance because, he said, in a public letter, it had been overtaken by "forces of evil". Almost a month later, on May 11, 1919, Besant would be ousted from the Home Rule League for challenging Gandhi. Besant would specifically name Gandhi for her ouster.
In other communications that are recorded in the Collected Works of Mahatma Gandhi, we find Gandhi, in the midst of all this turmoil, confining himself to giving lectures on Hindi as a national language and, the nature of Satyagraha. It was only on April 21, 1919, that he made his first protest to the government with respect to Punjab. It was regarding people being whipped in Punjab for violating martial law that Dyer had imposed a week ago. 'Don't whip them' (I paraphrase), was about all that the Mahatma had to say in a convoluted manner.
Silence on Punjab
To be fair to Gandhi, even the Indian National Congress was remarkably silent on the atrocities heaped upon the people of Punjab by the colonial government. If anything, the "Moderates' Conference" held on the May 1, 1919, in Calcutta, which was attended by stalwarts like Tej Bahadur Sapru, Surendranath Banerjea, Chimanlal Setalvad and others, too, refused to condemn the massacre at Jallianwala Bagh and, merely asked for an administrative inquiry into what it called were 'disturbances' in Punjab. That is how the Punjab uprising would be viewed hence: as a 'disturbance'. When Charles Andrews, the British padre who was a close friend of Gandhi, planned a visit to Punjab in May 1919, Gandhi was quick to stop him. "STRONGLY ADVICE CHARLIE NOT PROCEED LAHORE WITHOUT SANCTION PRESENT JUNCTURE" (sic) he telegrammed (on May 10) to Principal Rudra of the St Stephen's College where Andrew was based at that time.
The next major engagement that Gandhi had with Punjab was during the movement by the Punjabi peasants to oust the corrupt Hindu mahants from controlling the gurdwaras. The Gurdwara Reform Movement, as it was called, led by the Akalis, left Gandhi amazed. Here was a peasantry that on its own, with only a little guidance from its leaders, was battling the corrupt in a bid to liberate the gurdwaras.
The passive resistance movement of which Gandhi had dreamt of was being implemented by a mostly illiterate mass of peasants, eschewing violence. The mahants and their forces would kill hundreds of protestors. Yet the protestors abjured violence. "It seems almost unbelievable," Gandhi would say in his speech at the Nankana Sahib Gurdwara on March 3, 1921, "that not a man died at the hands of the Akali party." Gandhi's astonishment only grew as he reported in his Gujarati newspaper, Navajivan, how hundreds of Sikh jathas were formed, to peacefully and insistently, take possession of gurdwaras. The Punjabi peasants, on their own, were practicing the Satyagraha that Gandhi had been preaching to all others in India.
As for the non-cooperation movement which Gandhi was leading at this time, the people of Punjab remained indifferent to it. This indifference would persist even to other movements led by Gandhi such as during the Individual Satyagraha movement of 1941 and then in the Quit India movement of 1942. Instead, Master Tara Singh, a stalwart Akali leader, would refuse to join the Quit India movement and insist that a job in the military brought many benefits for the Sikhs.
In fact, non-Gandhian politics was the more popular in Punjab. By the mid-1920s, with the formation of the Hindustan Socialist Republican Army, a number of youth, mostly from elite and well-off families, took to sporadic violent attacks on the government. Some of the most spectacular of these actions, such as the train robbery at Ahmedgarh and the assassination of a police officer in Lahore, took place in Punjab. By 1928 Bhagat Singh and his comrades had begun to win over the mindscape of the Indian public by their dare-devil actions. After their arrest while they remained in jail, their public stature only grew.
On March 5, 1931, during Gandhi's talks with Viceroy Irwin, Gandhi was strongly urged by public to plead for the revocation of Bhagat Singh's death sentence. Gandhi's version, and the Viceroy's version of that meeting are now available in the Collected Works of Mahatma Gandhi. Gandhi effectively told Irwin that the Viceroy should follow his own dharma. Gandhi did plead that the hanging should be postponed till after the meeting of the Congress at Lahore lest the public get agitated and riot. It is interesting that Irwin and his officers seemed to have a better understanding of the public than Gandhi. The hanging was preponed by a few hours and the martyrs' bodies cremated secretly. The public showed some initial agitation but then forgot about the young men who had given up their lives to save India's honour and freedom.
Electoral politics
With the rise of electoral politics in 1937, Gandhi became irrelevant to Punjab politics. His vision of a simple, dharmic life, dedicated to the service of the poor and downtrodden, continued to influence individuals. Many of them, like Bibi Amtus Salam, worked within the parameters of Gandhi's teachings, even many years after Gandhi's death. When Partap Singh Kairon became Punjab's chief minister, he insisted that every year, he and his ministers would organise special functions on Gandhi's birth and death anniversary to recall his teachings and reiterate their commitment to serve the deprived and downtrodden. Kairon's own life-style, dressing style, his work-style, his obdurate commitment to truth and morality, remained Gandhian.
— The writer is Professor of History, PU, Chandigarh
Top News
Rushdie alive after attack; authorities monitoring situation...
MEA's call for avoidance of unilateral actions to change sta...
The Act prohibits conversion by misrepresentation, force, un...
The attack came three days ahead of 75th Independence Day on...
'It is my wish that all come together'