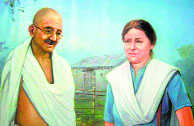 BD Kasniyal
Pithoragarh, August 23
Sarla Behn (Katherine Mary), a German woman of Swiss origin, reached India in 1932 to meet Mahatma Gandhi as she was influenced by his thoughts. After basic education, she worked in London where she came in touch with some Indian students who told her about Gandhiji's magic. She then decided to work with Gandhiji.
After reaching India, Sarla was sent to the Vidhya Bhawan, Udaipur, which was established with the blessings of Gandhiji, to work in the sphere of his Buniyadi Shiksha concept. "The Udai Vidyapeeth was established like the four others in India to teach the new generation a self-sufficient lifestyle based on nonviolence. The syllabus in Udaipur attracted Sarla Behn, as it was based on work and teachings," said Radha Behn, a disciple of Sarla Behn at the Laxmi Ashram at Kausani in Almora district.
At Udaipur, Sarla came in touch with Gandhiji's basic teachings and learnt how to dignify one's life by earning livelihood with dignity of labour and do her daily chores herself. "The education system in Udaipur involved four hours of teaching and four hours of manual working in fields, besides cleaning toilets, washing own clothes and cooking. This spirited me and encouraged me to work more for women and dignity of labour," writes Sarla Behn in her autobiography 'Vyawaharik Vedant'.
Sarla Behn reached Kausani in Almora district in August 1946. She wanted to work with hill women. She established the Kasturba Mahila Mandal at Kausani and started working among hill women to empower them by imparting Buniyadi Shiksha of Gandhiji. "We started with one or two girls on December 5, 1946. The number rose to six in some months," says Sarla Behn.
"The method of educating hill women at the ashram was unique. When village elders asked Sarla what they should send as study material with girls to the ashram, she used to say they should give their daughters traditional instruments of cutting grass and firewood, as these were the instruments that were used to teach women dignity of labour and self-sufficiency in their lives," said Radha Behn.
After initiating Nayi Talim, Sarla Behn also toured villages to know about the difficulties of hill women. "Sarla Behn also worked in anti-liquor campaigns, Gram Dan, Bhoodan and for Gandhiji's Gram Swarajya while living in the Kasturba Ashram at Kausani. She later settled at Dharamghar, near Chaukori, in Pithoragarh district in 1976 and started writing books based on Gandhian teachings. She was awarded the prestigious Jamnalal Bajaj Award in 1979 for her lifelong works in Kumaon and women empowerment. She died in 1982.