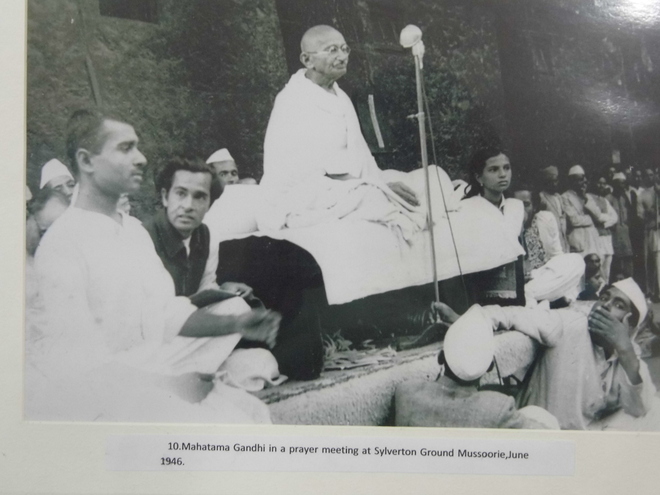 Ajay Ramola
Tribune News Service
Mussoorie, October 1
Mahatma Gandhi's visits to Mussoorie in 1929 and 1946 were not only for personal reasons such as for regaining health but also for social and political reasons. His visits brought the hill region into the mainstream of the freedom struggle of the country.
Several present day movements, namely Chipko Andolan in the Chamoli hills, were inspired by Gandhiji's visits. Gandhiji's visits to Mussoorie in 1929 and later in 1946 were significant enough to change the course of the history of the hill region, which was part of Uttar Pradesh that had always played an important role in the India political and cultural history.
It was also the period when Gandhiji took the onus of spreading the khadi movement around the country and the hill town of Mussoorie joined in by contributing towards strengthening the movement. Gandhiji after collecting funds for the Lal Lajpat Rai Memorial Uttar Pradesh National Service and khadi at Haridwar on October 15, 1929, headed towards Mussoorie. On October 16, 1929, he addressed a district political conference of the Congress at Dehradun under the leadership of Babu Purshotam Das Tandon.
On October 17, he received an address composed in Sanskrit by students of Kanya Gurukul and along with Kasturba and Meera Bhen took part in a spinning competition at Dehradun. He also unveiled a portrait of Keshav Dev Shastri and planted a sapling in his memory.
Gandhiji reached Mussoorie on October 18, 1929, and addressed the European municipal councillors. He stayed at Birla House, near Happy Valley, until October 24 and held several meetings where he emphasised on non-violent means in the freedom struggle.
Gandhiji speaking at a public meeting urged Antyajas to bestir themselves and see to it that the Hindu temple at Mussoorie was made accessible to them. During those days, some castes or classes, namely washermen, hide and bamboo workers, fishermen, and forest or hill tribes, were not permitted inside temples and the practice made Gandhiji unhappy. He urged people belonging to upper castes to stop the practice and his appeal had the desired effect. On the directions of the temple committee, the doors of the temple in Mussoorie were opened for all within a few months of Gandhiji's visit.
Gandhiji during one of the prayer meetings was given a silver-coated replica of dandy (a mode of conveyance) used in the hill region at that time. Gandhiji instead of keeping the gift auctioned it on the spot and collected Rs 908. He gave the money to the Khadi development fund, says local historian Gopal Bhardwaj.
Gandhiji, on medical advice, visited Mussoorie again on May 28, 1946. He attended a prayer meeting on May 29 where he reminded the rich about the miserable condition of hand rickshaw-pullers, dandy pullers and coolies and advised them to build a dharamshala for them.
On May 31, 1946, he gave an interview to Norman Cliff, a foreign journalist, and the same day at a prayer meeting he again appealed to rich people to build a dharamshala for the poor and Harijans.
Gandhiji also met Azaad Hind Dal volunteers on June 2, 1946. Later at a prayer meeting the same day, he spoke about the deplorable living conditions of labourers in Mussoorie and emphasized on the need for sanitation. On June 3, local residents and Congressmen welcomed Gandhiji.
At prayer meetings on June 4 or 5, he deplored the practice of rickshaw pulling in Mussoorie. He addressed people during prayer meetings on June 6, 7 and 8 and spoke about the work to be done in connection with the dharamshala. He then left Mussoorie for New Delhi.
Gandhiji's visits helped in linking various village-level problems and issues confronting the people of the hill region. His visits were also able to create an inter-relationship between people of hills and plains.
Goats from Doon
Gandhiji believed that food was vital for shaping human consciousness and was not just meant to satiate hunger. Gandhiji followed the Brahmacharya way of life, which meant eschewing anything and everything materialistic, and this was reflected in his diet.
Gandhiji became a complete vegetarian in 1906. His Brahmacharya diet consisted of cereals, leafy vegetables, jagggery, and goat milk, the last one being his favourite. He, on a doctor's advice, started drinking goat's millk as it contained higher amounts of vitamins and minerals.
Gandhiji was so particular about drinking goat milk that he brought two goats specially for the purpose form Dehradun during his stay in Mussoorie.
Sewa Ram Goel, who owns a general merchant shop at Library Bazaar, vividly remembers that two goats on board a jeep with Gandhiji when he visited Mussoorie and stayed at Birla House. Sewa, who was then around 9 or 10 years old, was sitting in his shop when Gandhiji's cavalcade passed by. He was bemused to see the two goats on the vehicle along with Gandhiji. "I asked my parents why goats are being brought to Mussoorie and they told me that Gandhiji drinks goat's milk which is nourishing and rich in protein. Hence the goats were brought from Dehradun".
Another senior citizen Baldev Singh, a hotelier, remembering Gandhiji's visit says he cannot forget the sight of two goats protruding their necks out of the luxury car's windows with Gandhiji sitting in the middle near Allahabad Bank on the Mall Road. The two goats were driven in the same car several times.
"Some residents said Gandhiji's goats were more fortunate than them as they got the opportunity to travel in a Luxury car on the Mall Road," adds Baldev Singh.
Top News
Jammu and Kashmir Lieutenant Governor Manoj Sinha and politi...
Cops say case cracked within three days with the arrest of a...
Indonesia football association suspends league to investigat...
Samajwadi Party patron is under treatment in Gurugram hospit...
DGP dismisses Mansa CIA Incharge, FIR registered against err...