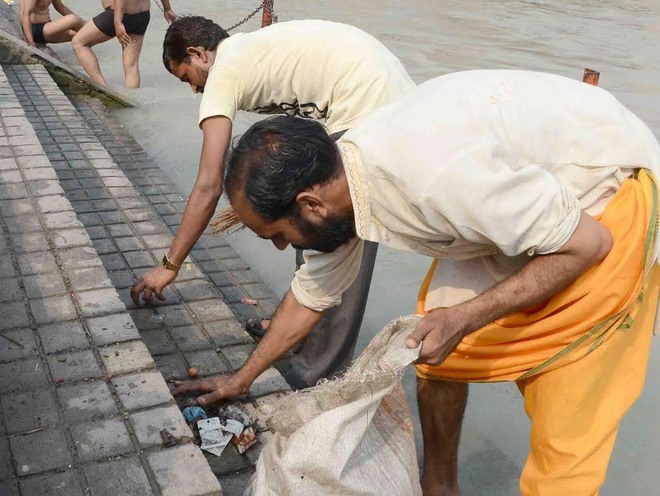 Tribune News Service
Haridwar, August 27
Activists of the Maa Ganga Aahwan Akhada have urged National Green Tribunal (NGT) local Commissioner S Jaidi to take stringent action against those violating its order regarding ban on polythene bags at Har-ki-Pauri.
Coordinator of the weekly cleanliness drive Rameshwar Gaur said they had submitted documents, newspaper reports and photographs of the mass violation and non-implementation of the NGT directives by the civic body, the Ganga Sabha, local traders, people, pilgrims, tourists and the district administration.
"The NGT commissioner has assured them that from next month an NGT team will visit Haridwar to observe the implementation of its directives on the sale and use of polythene bags and plastic bottles, at Har-ki-Pauri and adjacent ghats. The district administration, the civic body and the Ganga Sabha, which manages Har-ki-Pauri, are not serious about the implementation of the NGT directive," said Gaur.
Social activist JP Baduni said the Ganga Sabha and other trader bodies should take a lesson from the Maa Ganga Aahwan Akhada that was holding cleaning Ganga ghats for the 22nd consecutive week.
Baduni said the Ganga Sabha got donations worth millions of rupees every year, but it seems to be non-serious towards cleanliness and had taken no steps to ensure Har-ki-Pauri remains polythene bag and pollution free.
Activists of the Maa Ganga Aahwan Akhada, social activists, local people, traders along with pilgrims and tourists are actively taking part in the weekly cleanliness drive. As a result, the once unclean ghats in this stretch now look clean.
RTI activist Ajay Sharma, associated with the akhada, urged people, saints, seers, teerth purohits and administration officials to contribute to the cleanliness drive.
Akhada representative Ajay Sharma cited an agreement of 1916 between the Ganga Sabha, Indian dynastic rulers and the British India Viceroy and said it belonged to the British era and was conceived to ensure sanctity and consistent flow of the Ganga. Now, when India is independent, this historic agreement was being grossly violated.