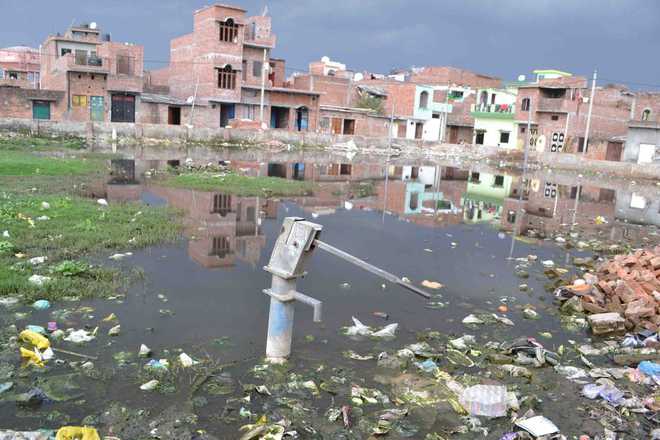 Tribune News Service
Haridwar, March 1
Residents of the pilgrim city fear outbreak of diseases as heaps of garbage, plastic material and filth can be seen on almost all major roads, colonies and intersections. Though the Municipal Corporation (MC) make tall claims of keeping the city clean, the situation here is totally different. The MC has failed to take measures to ensure cleanliness in the pilgrim city which is thronged by thousands of tourists everyday.
Chances of outbreak of diseases are high in the core mela zone comprising the sanctum sanctorum of Brahamkund, Har-ki-Pauri, Ganga ghats, Birla ghat, Alaknanda, Neel Dhara, Sapt Sarovar, and inner roads and colonies like Kankhal, Moti Bazaar, Ranipur, Gobindpur and Shastri Nagar where garbage is not being dumped on a regular basis.
The railway and bus stations, the city control room tower, Women's hospital, the MC office area and other important sites are also not being cleaned regularly.
Mayor Manoj Garg said additional daily wage sanitation workers would be roped in to ensure cleanliness prior to Holi.
Ward councillor Aman Garg said heaps of garbage and filth at major spots was affecting the image of the world famous city.
"The elevation of the Haridwar civic body from the Municipal Committee to Municipal Corporation has not brought about much change in sanitary conditions. The Mayor should take into confidence all councillors in this regard, as people have chosen us for improving civic conditions," said Garg.
Top News
Says wants it to commit constructively to establish facts
Blinken says it is 'important for India to work with the Can...
Says the US has engaged directly with the Indian government ...
Canada's trade and ability to be a part of Indo-Pacific and ...
Pakistan needs to take three-fold action for there to be pea...