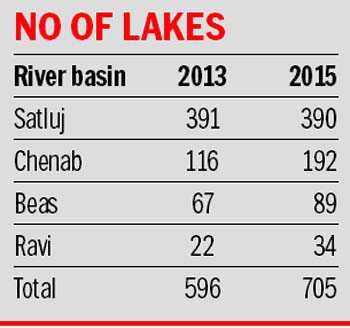 Pratibha Chauhan
Tribune News Service
Shimla, October 6
The substantial increase in the number of glacial lakes in the Himalayan region of Himachal Pradesh from 596 to 705 within two years has raised concern over the possible threat from lake bursting and a dire need for proper monitoring and management of these water bodies having international dimensions.
The latest study undertaken by the State Centre for Climate Change of the State Council for Science, Technology and Environment confirms that there is accelerated glacial melting in all the river basins of Chenab, Ravi, Beas, barring Satluj. Though the number of lakes in the Satluj basin has remained stagnant at 391 one cannot overlook the fact that the number of lakes in the Satluj basin rose from a mere 38 in 1994 to 390 in 2015.
With Himachal having lived under the threat of the bursting of Parechu Lake, located in the upper catchment of the Spiti basin in Tibet in 2004, the findings of the study necessitate the need for having a mechanism where these mapped lakes are monitored regularly for any change to avert any major mishap on account of glacial lake outburst floods (GLOF).
Though there has been no incident of GLOF in the Indian Himalayas such cases are frequently witnessed in Nepal. The Uttrakhand floods of 2013 have also been correlated with bursting of a lake.
"There is no denying that climate change is impacting the Himalayan glaciers but what we need to do is to use these effectively as water sources and at the same time monitor them regularly to avert any mishap due to bursting," said Tarun Kapoor, Principal Secretary, Forest and Environment.
Since the threat in 2004, the Parechu Lake is being monitored regularly during April-September when there is more melting and the State Disaster Management Authority, district administration and the Satluj Jal Vidyut Nigam is being updated from time to time.
The study also confirms accelerated glacial melting which has resulted in increase of 109 small lakes in the three basins of Chenab, Ravi, Beas, within a short span of two years. "The study undoubtedly indicates more pronounced effect of climatic variations in the Himalayan region resulting in the formation of small lakes," said S.S. Randhawa, Senior Scientific Officer in the Council who undertook the study along with other scientists.Though the number of lakes in Chenab basin has risen from 116 in 2013 to 192 in 2015 the number of lakes in 2001 was a mere 55. In case of Satluj basin though the number of lakes has remained stagnant during the last two years this region has some of the biggest lakes as there are 10 lakes with areas more than 10 hectares and 45 having are between five to 10 hectares.
Top News
2 others eject safely I Debris strewn across miles I Sukhoi,...
Visit comes ahead of NSA chief's US tour
Union Ministers call it part of efforts to de-colonise, indi...