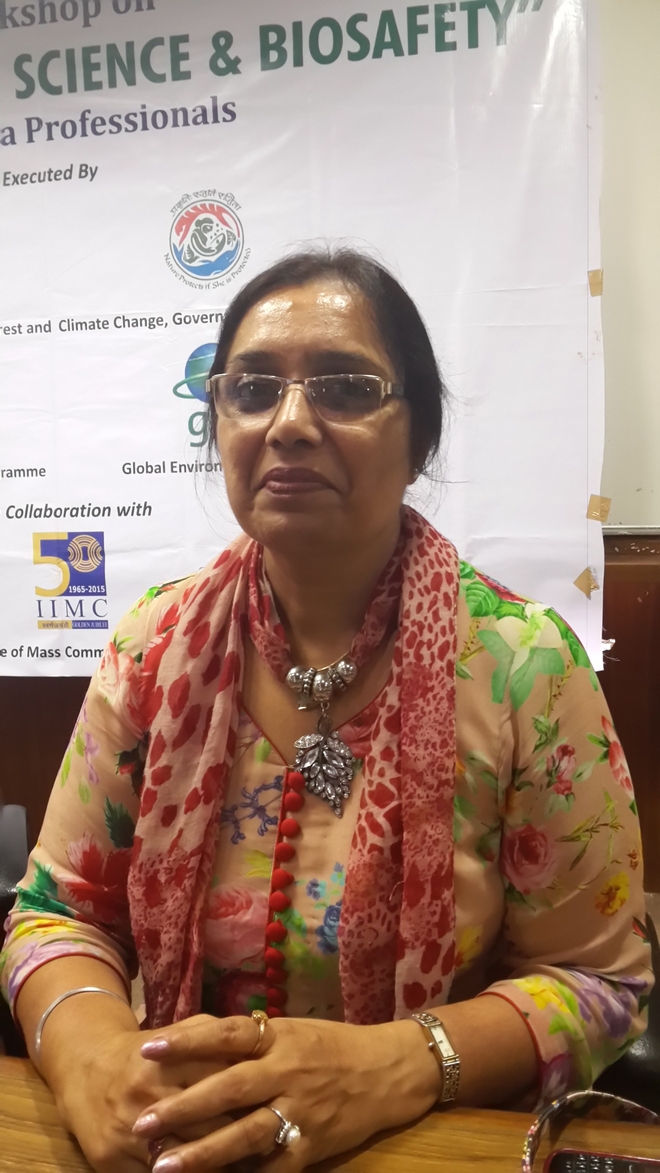 Deepti Verma
Tribune News Service
Chandigarh, July 28
Years after the government imposed an indefinite moratorium on the commercial release of Bt Brinjal, genetically-modified for resistance to the fruit and shoot borer, a principal scientist of the National Bureau of Plant Genetic Resources, New Delhi, puts forth a strong case for its commercial approval.
"Debunking" the criticism surrounding the country's first transgenic food crop, Dr Gurinderjit Randhawa said: "Bt Brinjal is safe for human consumption and should be commercialised at all costs."
She was addressing a workshop on "Communicating Science and Bio-safety", organised by the Indian Institute of the Mass Communication, New Delhi, in collaboration with the Ministry of Environment, Forest and Climate Change, at Panjab University today.
Having served the Indian Council of Agricultural Research for 29 years, Randhawa agrees that these crops are controversial and it is difficult to obtain an "overwhelming" consensus in their favour. "GM crops are good but one has to be cautious," she said. About making such crops available to consumers through farmers, she said: "After a research is presented, it undergoes lot of tests. Experts from diverse fields weigh the risks and the benefits involved before giving any crop a go-ahead."
Being critical of the "lab-to-land" programme, she said farmers need to be informed about the way GM crops are grown. "Majority of them don't even know that these crops must contain some percentage of non-GM seeds as well. They need to be informed about it. To bridge this gap, lab-to-land programme is organised, but it has not been implemented effectively."
She said a monitoring and evaluation committee has also been formed to oversee the implementation of the project. "To ensure safe crop yield, members of the committee conduct surprise field visits to check whether the correct procedure is being followed," she said.
A patent holder of three GM crops, including potato, Randhawa said: "No technology is risk-free and it keeps evolving. If some problem occurs, solutions are also suggested." On the risks such problems pose to consumers, she said: "No problems are caused if the technology is used the way it is meant to be."
On the consumers' freedom to choose what they eat, she said: "Unlike retailers in the US or other developed nations, Indian retailers don't differentiate the natural crops from those produced with genetic modifications, which is wrong. Crops should be appropriately labelled to let consumers make an informed decision."
Randhawa has been instrumental in establishing the National Containment Facility of CL-4 level and GM Detection Laboratory of International Standards and developed cost-effective and DNA-based diagnostics for 13 GM crops. She has also made significant contributions in the DNA profiling and molecular characterisation of rice, chickpea and eight medicinal plants of commercial importance.
Top News
Isaac Herzog seeks India's help in release of hostages held ...
TMC MP can be expelled only if the House votes in favour of ...
PM Netanyahu says Hamas did not release all women hostages a...
The decision amounts to creating a parallel jurisdiction, ta...
Prime Minister says Green Credits Initiative surpasses comme...