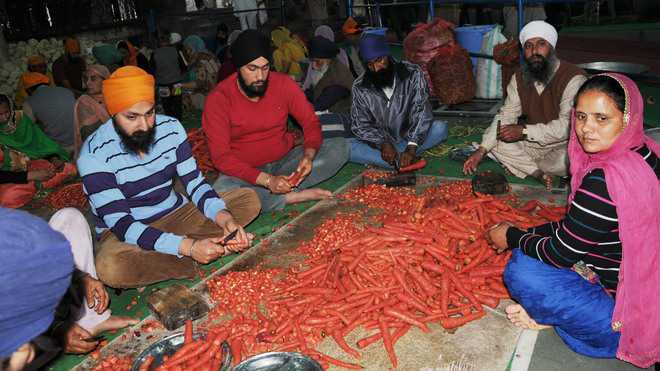 GS Paul
Tribune News Service
Amritsar, March 10
The SGPC's efforts to offer chemical free 'langar' to the devotees at Golden Temple have started yielding results.
On an experimental basis, the committee has earmarked 40 acres at Gurdwara Gurusar Satlani Sahib to be developed as a model farm and the produce generated from here will be used for preparing langar.
The first lot of vegetables grown organically in this farm has reached the Golden Temple community kitchen. This included carrot, radish, cabbage, spinach, fenugreek seed (methi) etc.
Though the SGPC-run gurdwaras own a whopping 13,000 acres, at present various varieties of vegetables have been grown on eight acres and wheat on another acre of plot at Satlani Farms in August.
The SGPC has roped in Punjab Agro Industries Corporation Limited (PAIC) to gain expertise in growing the crop organically and got the soil tested.
PAIC chairman Kahan Singh Pannu said, "It was good to learn that the organic produce from the farm is being used for the langar. Our experts provide the committee with technical guidance about substituting routine pesticides with chemical free products," he said.
At present, the vegetables and other farm products used for the langar is generally purchased from the market or is collected by way of offerings from devotees.
With the premier Sikh organisation's move to restrict the preparation of langar from chemical-laced food items, it means that move would be replicated in other gurdwaras managed by the committee in Punjab, Haryana and Himachal Pradesh.
SGPC additional secretary DS Bedi said that organic farming was their new mantra. "In a way, it was a move to sensitise the people in the state to cut down on the use of fertilisers and pesticides. We have started using organic vegetables in the Golden Temple langar.
"More gurdwara land would be utilised for organic farming in the coming days. At Satlani Sahib farm, special fencing was done around the fields to prevent damage to the crop by wild animals. Instead of using pesticides, we are spraying neem patta, lassi, cow urine etc. as advised by experts", he said.
Top News
BJP leaders attack the Congress, accusing the party of invit...
After the accident, people gathered around the temple lookin...
India reports 40 per cent jump in new Covid cases
The incident happened when proceedings were underway in the ...