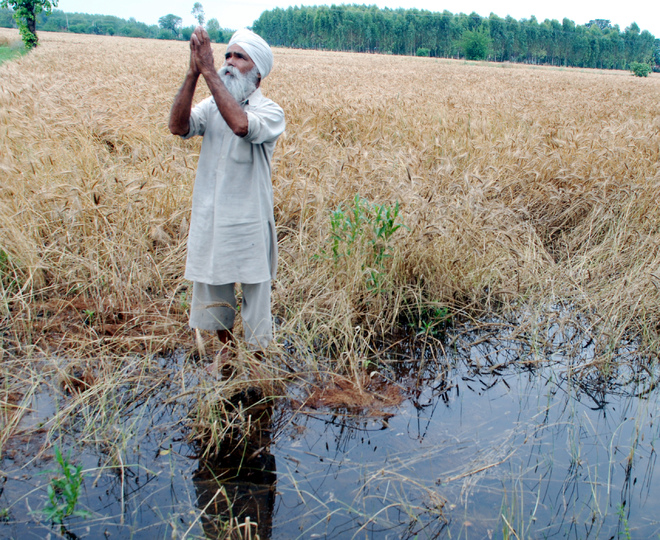 Deepender Deswal
Tribune News Service
Hisar, May 11
After facing the heat following controversial remarks by Agriculture Minister OP Dhankar about the reported suicides by distressed farmers, the government has sought a detailed report about such incidents for the past two months.
Sources said that the agriculture department has directed all DC's to file reports about such incidents in their districts. Hisar DC Chander Sekhar Khare confirmed the development. However, he did not elaborate on the reasons behind the incidents mentioned in his report.
The government had been facing the flak from the opposition parties and various farmer groups after the minister stoked a controversy by describing the suicide victim as cowards.
Meanwhile, a three member central delegation of All India Kisan Sabha (AIKS) led by former MP Hannan Mollah, the general secretary of AIKS, Nand Kishore Shukla and Biju Krishanan would visit Hisar, Bhiwani, Jind, Rohtak and Fatehabad districts to assess the ground realities and causes behind the spate of suicides in the state.
Suicides by farmers had been a harsh reality in past too as the National Crime Records Bureau data revealed that there had been more suicides in Haryana as compared toPunjab and Himachal Pradesh. In 2013, 374 farmers committed suicide in Haryana while 83 died in Punjab and 33 in HP.
Harpal Singh, a kisan leader, said that though farmers had been facing crop failure and losses due to famine or floods in past but the sudden spurt in suicides and deaths due to shock in the past last two months is a worrying development.
It seems that the farmers have lost all the hope of any help from the governments. The states must take a closer look at the situation and take supportive measures urgently to save them from the ruinous situation," he said.
Top News
The survey said the pace of price increases is not high enou...
81-year-old is currently lodged in a Jodhpur jail, where he ...
Was addressing the joint sitting of both Houses of Parliamen...
Baljinder Singh and Harpreet Deol Both are Pentecostal pasto...
135 people were killed in last year's suspension bridge coll...