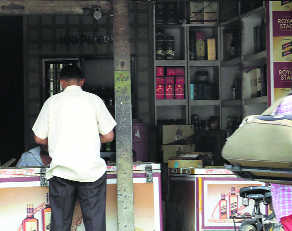 Bhanu P Lohumi
Tribune News Service
Shimla, June 30
The wholesale liquor trade will be the monopoly of the government in Himachal and wholesale licences be eliminated. A government company under the name Himachal Pradesh Beverages Corporation Limited (HPBCL) will handle the trade.
The decision to set up the firm under the new Excise Policy was taken following a High Court order that upheld the government decision to form the company. Wholesale suppliers, who were given licences last year, were allowed to continue until the company was formed.
As the government could not set up the company by March 31, 2016, the wholesalers were allowed to exhaust their stocks by June 14.
The High Court, disposing of seven petitions challenging the setting up of the company, upheld the decision of the government but directed the state to offer grace period to the existing licensees to enable them to exhaust their stocks, if any, and consider to purchase the stock lying with them instead procuring it from manufacturers directly.
The Himachal Pradesh Beverages Corporation, headed by the Excise and Taxation Commissioner, will be responsible for the procurement of liquor andsupply it to all retail vends. The retail licensees will now lift all brands of liquor only from the company's licensed and prescribed premises.
However, a new clause has been added for the supply of foreign liquor by manufacturers to retail licensees. The licensee will not sell less than 12 bottles of liquor or as may be prescribed in the liquor sourcing/sale policy of the HPBCL to any licensed/authorised person. The licensee will display in front of his shop a signboard showing in Hindi or English the wholesale price of liquor and sell foreign liquor, beer and wine only to a person holding a licence. The licensee will sell bottled liquor only in sealed and capsule bottles and comply with the provisions of the Punjab/HP Excise Act and Rules and also observe the dry days as notified by the Excise and Taxation Commissioner.
The minimum guarantee quota of country and foreign liquor has been fixed at 1,97,25,850 proof liter (Pls) and 1,68,90,491 Pls with Shimla having the highest quota of 30,59,536 Pls of country liquor and 23,54,834 foreign liquor.
Top Stories