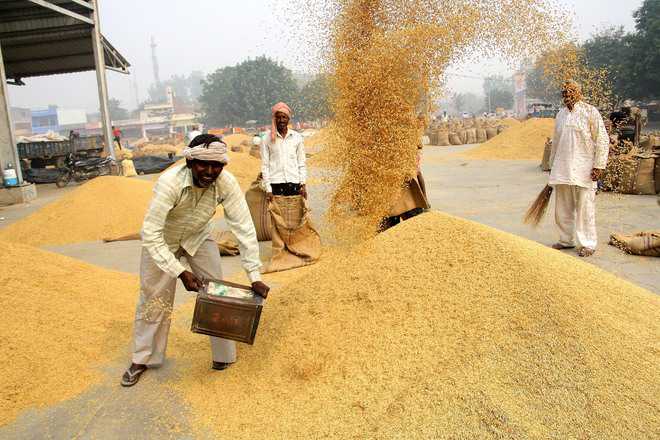 Deepender Deswal
Tribune News Service
Hisar, October 4
In a major relief to farmers, the moisture content in paddy has been increased from 17 per cent to a maximum limit of 22 per cent with imposing a value cut as per the percentage of the moisture.
Sources said that the state government had taken a decision in this regard in a meeting yesterday. The meeting was chaired by Chief Minister Manohar Lal Khattar and attended by Agriculture Minister Om Prakash Dhankar and Food and Supplies Minister Karan Dev Kamboj.
Arhtiyas were not purchasing the crop which had moisture content above 17 per cent, said the sources. Citing the moisture content, the arhtiyas were also imposing cuts in an arbitrary manner, forcing the farmers to dispose of their produce at distress prices.
The Union government has fixed the Minimum Support Price (MSP) of paddy at Rs1,470 per quintal for the common variety and Rs1,510 per quintal for the grade 'A' variety. The procurement started from October 1 with the onset of Kharif Marketing Season (KMS) this year.
As per the revised formula of the moisture content in paddy, there would be 1 per cent cut in the value above 17 per cent moisture which is a cut of Rs15.10 per quintal. In this way, there would be a cut of 1 per cent additional on every percentage of moisture content upto 22 per cent.
Confirming changes in the paddy procurement formula, Agriculture Minister Om Prakash Dhankar said that the government had also decided to set up Kisan Sahayata Kendras in the mandis to facilitate farmers in selling their produce.
He said that the state government had also allocated 13 paddy-producing districts to the Administrative Secretaries of different departments for the inspection of mandis. "In case farmers face any problem during the procurement process, they can directly contact these officers on their phones," he said.
BKU finds excess paddy in bags
Kaithal: BKU activists visited the local anaj mandi on Tuesday and found that 500 gm to 1.3 kg of excess paddy was being packed in 50-kg bags. BKU leader Jia Lal along with other activists found that 500 gm of excess paddy was being packed in bags at a shop. On Jia Lal's complaint, market committee assistant secretary Chander Singh reached the spot and got the bag reweighed and found the BKU allegation correct. At another shop when a packed bag was weighed, 1.300 kg of excess paddy was found in it. The BKU activists alleged that farmers were being cheated of Rs 15 to Rs 20 per quintal. Sanjeev Sachdeva, Secretary of the market committee, said a show-notice would be issued to the erring commission agents and action taken, including the cancellation of their licences.