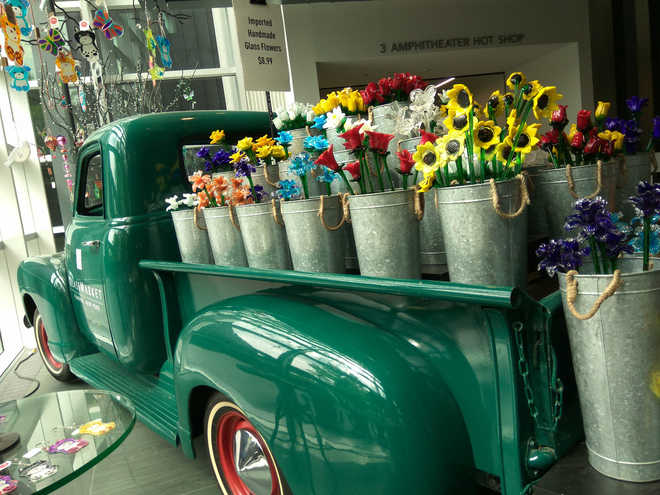 Rashmi Gopal Rao
The Corning Museum of Glass located in Corning, New York, is indeed a unique place. Founded in 1951 by Corning Glass Works, the museum has more than 45,000 glass items on display. Some of these are more than thousand years old.
Divided into several galleries, this aesthetically designed museum has some of the most amazing as well as creative glass objects on display. The contemporary Art section and Design wing, designed by architect Thomas Phifer and Partners has some exquisite glass creations that are elaborate as well as intricate. The workmanship and level of detail of a particular arrangement showing a massive deep red chandelier that has crashed to the ground by a few crows is simply stunning. The gallery is equipped with a state-of-the-art, sophisticated light-filtering system that enhances the beauty of the 70-odd pieces on display.
There is a separate section that traces the 35 centuries of glass, its discovery and evolution over the ages. Starting from the early glassmakers in Mesopotamia (or Syria) to the Egyptians and the Romans, the gallery throws light on lesser-known aspects on ancient techniques like making glass vessels around a removable core, casting and slumping. Niche objects demonstrating the high quality of German and Italian glass are noteworthy. Do not miss the awe-inspiring Tiffany's Glass Mosaics that include decorative panels, design drawings and innovative coloured panels here.
The museum also has the Innovation centre that is an interactive and highly educative section where one can learn about the history of glass, study its chemical composition and explore the optics, windows and vessels gallery. There is a sub-section devoted to Pyrex as well as insights into the recipe for the first glass which was prepared using soda (sodium carbonate or washing soda) and lime (calcium carbonate). There are several hands-on activities, demos and descriptive displays that make the visit an insightful experience.
The highlight of the museum is the live glass-making demonstrations that help visitors get an in-depth understanding into the art, science and technique of glass making. The Hot Glass show is particularly fascinating as visitors get to watch experts handle the scalding liquid glass getting rolled into the desired shape by blowing into it. The show that lasts about 20-30 minutes is interactive with the team explaining the method and answering any questions by the audience. The team also gives away a couple of objects to lucky winners on a daily basis!
There is an outlet downstairs as well where visitors can shop and pick up souvenirs that serve as fond memories of a visit to a place that is truly one of its kind.