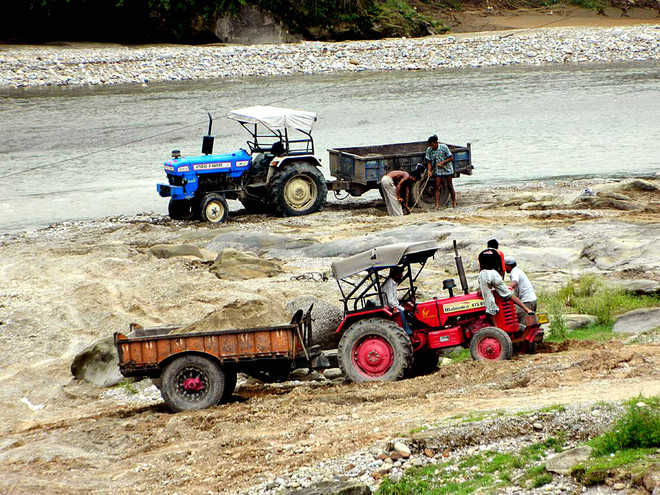 Tribune News Service
Shimla, September 11
With a view to ensuring easy availability of minerals like sand, grit, stone and other construction material to people and check illegal and unscientific mining, the Himachal Industries Department has issued guidelines to make the auction of mining sites transparent.
"The government has decided to hold an open auction for granting mining lease for mineral quarries. It recently auctioned 14 minor mineral quarries for Rs 3.95 crore in Hamirpur district,13 quarries in Kangra district for Rs 2.21 crore and 20 quarries in Sirmaur district for Rs 29 crore," spokesperson of the government said today.
Following the orders of the National Green Tribunal (NGT), the government had banned mining in the state, but at the same time it wanted to ensure that the pace of development was not affected for want of minerals and resorted to scientific mining.
"As per the Himachal Pradesh Minor Minerals (Concession) and Minerals (Prevention of Illegal Mining, Transportation and Storage) Rules, 2015, no lease will be provided for land within a distance of 2 km from the immediate outer limits of a municipal corporation/municipal committee, 1 km from the immediate outer limits of a nagar panchayat," he added.
No mining lease will be granted up to 100 m from the edge of a national highway/expressway, 25 m from the edge of a state highway and 10 m from the edge of other roads. Apart from it, no mining lease will be granted up to 200 m above and below any water supply/irrigation scheme and 200 m above bridges and 200 to 500 m below any bridge.
Himachal Pradesh River/Stream Bed Mineral Policy Guidelines-2004 was incorporated in the State Mineral Policy-2013 for ensuring scientific mining to make it more realistic and pragmatic.
The main objective of the policy is to preserve precious mineral wealth of the state, besides checking illegal mining. As such a provision of issuing letter of intent has been made for early approval of environmental related clearances for smoothly carrying out mining activities.
A ban has been imposed on the transportation of minerals in border areas from 8 pm to 6 am. Moreover, the government has notified its first State Mineral Advisory Committee to ensure planned and scientific mining and give suggestions to the government for better management of the mining areas.
Top News
Terms UPA 2004-14 period a 'lost decade', hit by scams | Ste...