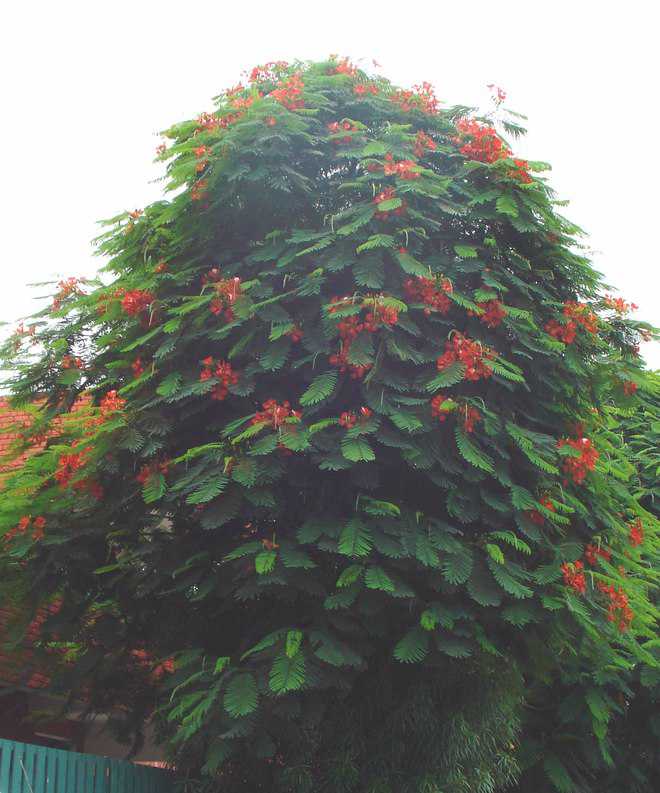 Shriniwas Joshi
What brings in cheer as the summer is about to say goodbye? It is the gulmohar galore. The skies are grey, the winds have begun to cool and the climate is still sultry in sub-tropical Himachal Pradesh, the gulmohar flowers spread flamboyance in the atmosphere. The poet sings: "Gone are the heat spells/Serene Winds now cool the soul/ It is gulmohar galore. /Everywhere."
I was in Chandigarh to be awestruck by gulmohar's dark green foliage and scarlet red flowers (See photo). The thick foliage can prove to be canopy to save a walker from the rays of the August-September sun and so is being done in many cities. I was going through the report of Dehra Forest Division: "The PWD roadside strips and the strips of land along railway tracks were allotted to this working circle. The main objects of the management were to restock the blanks with species valuable from aesthetic and economic considerations. The main species to be planted were cassia siamea, jacaranda ovalifolia, grevillea robusta, bauhinia variegata, harsingar, mango, gulmohar, etc. Planting programme for the two series was laid down. At least 307 km roadside strips and 162 km railway strips were prescribed for planting."
It is an avenue tree because of its graceful foliage and beautiful flowers. Then under Project Green School, Jawahar Navodaya Vidyalaya, Pekhubela in Una district has planted gulmohar trees in its complex.
Hear what the tree says to students: "I wish to be here always, watching every student twirl and mold/ I am a gulmohar tree; do not cut me until I grow old!" The Green residential projects are coming up in Baddi-Barotiwala-Nalagarh where high-density plantation and green belt development programme under the supervision of an experienced horticulturist are going on.
The preference is for gulmohar, molshree and alstonia flower trees, besides fruit trees. Alstonia scholaris is an evergreen tropical tree in the family apocynaceae and its wood is used for making blackboard and pencil, so it is also called blackboard tree. It is native to the Indian subcontinent. The botanical name for molshree is mimusops elengi. It is also called Spanish cherry, medlar or bullet wood tree. The widely known and venerated molshree tree in Himachal Pradesh is outside Brij Raj Swami temple within the Nurpur Fort.
The third category is of gulmohar tree that we are discussing here. Gulmohar is called delonix regia or royal poinciana which belongs to the family of fabaceae. It is noted for its fern-like leaves and flamboyant display of flowers and that is why it has earned another name of 'flamboyant' or 'flame' tree. 'Delonix' is derived from two Greek words: 'delos' means 'evident' and 'onux' means 'a claw' in allusion to the shape of petals.
But to watch the flower itself is to go to cloud nine. Gentle, fluffy and soft but burning with scarlet red colours added by the beauty of bright green foliage make gulmohar tree an exceptionally striking sight. It is called Krishnachura in Bengal (West Bengal and Bangladesh). But I also saw a shrub-like plant with vermillion and yellow flowers (See photo) in Chandigarh. When I asked the name of this plant, the residents there called it gulmohar.
Yes, that is right but there is a difference between this plant and the tree of gulmohar and that is its shrubby form as compared to full-foliaged tree of Krishnachura and also that its flowers are not that blood red. Some plants of the species bear totally yellow flowers. The botanical name for this flowering plant is caesalpinia pulcherrima belonging to the same gulmohar family. In Bengal, it is called Radhachura, a lookalike of Krishnachura.
In Kerala, gulmohar is called 'kaalvarippoo' which means the flower of Calvary. Calvary is the hill near Jerusalem where Jesus was crucified. The belief is that there was a small gulmohar tree nearby his Cross and his blood travelled up to the tree giving blood red colour to the flowers. Jean Rhys had said in 'Wild Sargasso Sea', "I saw it hanging - the colour of fire and sunset - the colour of flamboyant flowers. If you are buried under the flamboyant tree, your soul is lifted up when it flowers. Everyone wants that."
— The writer is a retired bureaucrat