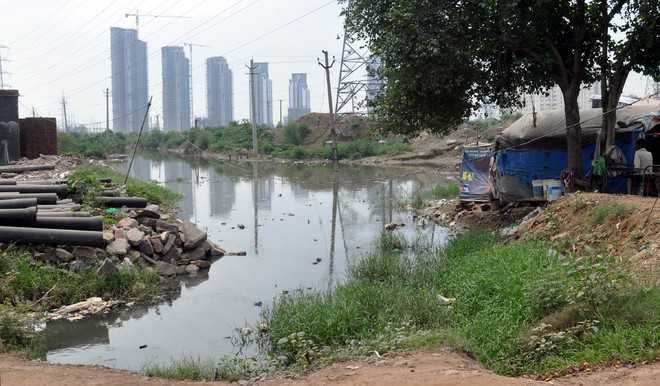 Sumedha Sharma
Tribune News Service
Gurgaon, October 21
Residents of Khanda village have reportedly agreed to give land for widening of the Badshahpur drain. This would help solve the problem of waterlogging in Gurgaon. Villagers would be given would compensated and given plots in Haryana Urban Development Authority (HUDA) sectors.
Yashpal Yadav, HUDA administrator, said, "Widening of the drain, which gets narrow near Hero Honda Chowk, in essential to reduce waterlogging during monsoon. Residents of Khandsa village have agreed to give their land in return for plots in HUDA sectors following talks with Cabinet Minister Rao Narbir and HUDA."
He said the plots would be allotted on the basis of a joint survey along with the village panchayat to accommodate those in the lal dora."
Public Works Department Minister and local MLA Rao Narbeer said: "Earlier, the talks failed, but we finally got them to understand the importance of this project. They will be duly rehabilitated."
The Badshahpur drain is probably the worst outcome of unplanned real estate boom on the foot hills of Aravalis. The drain, originally 30 meter wide with carrying capacity of 1,200 cusecs, has been reduced to just 10 meters with a carrying capacity of 500 cusecs near the Hero Honda Chowk in the Gurgaon-Jaipur highway. During the monsoon, the drain overflows flooding the nearby areas.
Chief Minister Manohar Lal Khattar had directed the administration to widen the drain following widespread flooding on July 28.
Top News
Aviation Ministry had imposed lower and upper limits on dome...
Tejashwi Yadav is deputy CM
New CJI will have a brief tenure of less than three months
A bench of Justices Surya Kant and J B Pardiwala also extend...
BJP fields Sushil Modi, a long-time confidante of Nitish and...