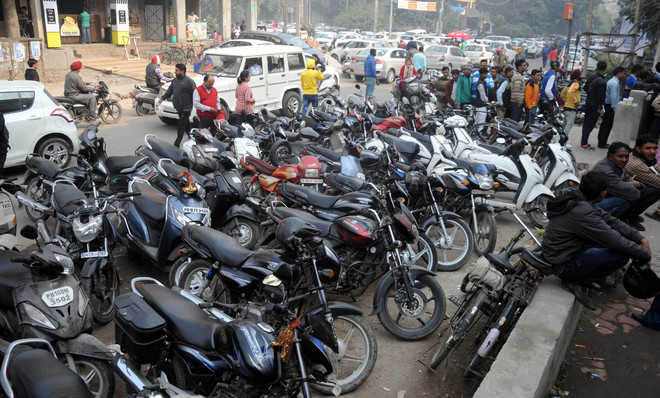 Tribune News Service
Ludhiana, December 6
Haphazard parking outside banks in the city has been causing traffic snarls. Commuters are inconvenienced as there are no traffic police personnel to regulate traffic and prevent visitors from parking vehicles in a haphazard manner.
During a visit to the Feroze Gandhi market, where almost every bank has its branch, massive traffic chaos was witnessed. Visitors had haphazardly parked their vehicles and two-wheelers on the road, creating traffic bottlenecks. Commuters passing through the market faced inconvenience as they had to struggle a lot to reach the other end of the market.
People standing in queues said there was no designated parking. "We have been visiting the bank everyday to withdraw cash and deposit old currency. We have to stand in queues for hours. We have to park our vehicles on the road because parking space outside the bank is insufficient," Anmol, a resident standing in a queue outside the ICICI Bank branch in Feroze Gandhi Market, said.
Another resident, Subrat Jain, said the traffic police should be deployed outside every bank to stop haphazard parking of vehicles. "When there is no traffic cop deployed there, people will not care about parking vehicles properly," he added.
A senior police official said it was not possible to deploy police personnel outside every bank. The city has a large number of banks and if the police go on deploying two or three personnel outside each bank, then there will be no one to look after the police stations.
Top Stories