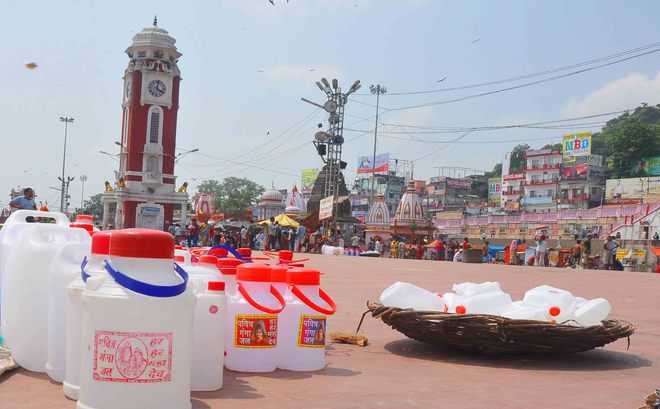 Tribune News Service
Haridwar, May 3
The city periphery has been divided into rural and city segments to ensure proper implementation of the National Green Tribunal (NGT) directives for a ban on polythene bags and plastic in Haridwar. District and police officials and NGO activists will head these segments.
District Magistrate (DM) Harbans Singh Chugh said due to lack of coordination, monitoring and implementation, all anti-polythene bags drives failed to materialise. As a result, 10 segments have been made from Dudiyaband till Khanpur block.
Municipal Town Commissioner Vipra Trivedi, City Magistrate Jai Bharat Singh, Roorkee Joint Magistrate Manglesh Ghindiyal, Roorkee ASDM Gopal Singh Rawat, SDK Lakshar KS Negi and officials of the Irrigation Department have been assigned responsibility to ensure proper implementation of ban on polythene.
"We are taking help of NGOs involved in the clean Ganga and anti-polythene drives. As each segment would comprise a district officer, police officer and an NGO activist, this would ensure effective implementation and proper adhering of the NGT directives," said Harbans Singh Chugh.
The segments chalked out are Dudiya Band-Chaudhary Charan Singh Bhimgoda Barrage, Bhimgoda Barrage-Har-ki-Pauri, Har-ki-Pauri-Chandighat bridge, Chandighat bridge-Shyampur Kangri, Shyampur Kangri-Ajitpur, Ajitpur-Bishanpur Kundi, Bishanpur Kundi-Bhogpur, Bhogpur-Rai Ghat, Rai Ghati to Balawali and Balwali till Khanpur.
"We will apprise people about the NGT directives, ill-effects of the use of polythene through advertising display boards, hoardings and pamphlets," the DM said.
Violators will be levied penalty and a legal action will be taken against offenders, he added. Social activist JP Badoni said the use of polythene had affected the ecology of Haridwar.
He extended full cooperation to the administration and said as NGOs have been given due representation in the segment monitoring committee, there would be transparency and better monitoring of the segments which will ensure effective implementation of the NGT directives.
Top News
Resolution gets the backing of 13 Council members, while the...
The written answer to unstarred question number 980, uploade...
Punjab Police tell Punjab and Haryana High Court that the in...
Move comes day after Ali walked out of Lok Sabha proceedings...
The tax department has deployed about 40 large and small mac...