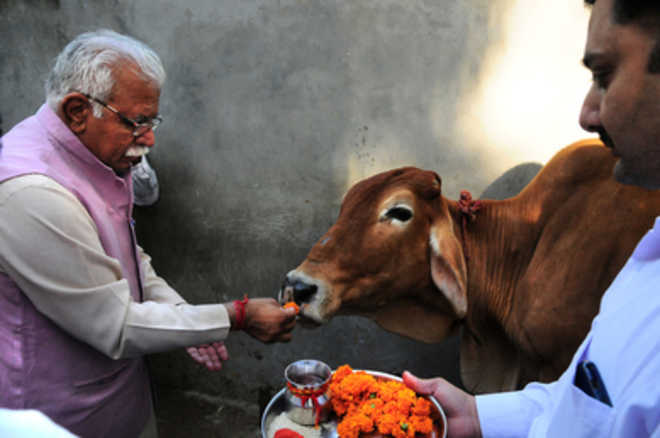 Karnal, November 19
Haryana's cow protection law has come into force with effect from today after President Pranab Mukherjee's assent, Chief Minister Manohar Lal Khattar said here while praising three Muslim legislators for supporting the Bill in the Assembly.
With the issuance of notification of the Bill today, cow slaughter in Haryana will now attract a rigorous imprisonment ranging from three years to 10 years.
"The Gauvansh Sanrakshan and Gausamvardhan Bill has come into force from today," Khattar said here.
On the occasion of 'Gopasthami', the chief minister formally released the notification of the Bill during a function.
Addressing the gathering, Khattar said,"The Bill was passed unanimously by all 90 members of Assembly including three Muslim legislators who hail from Mewat." He said that people belonging to Muslim community have also appreciated the cow protection law passed by the Assembly in March this year and assured to provide every possible help in its implementation.
"Many people of Muslim community claim that their ancestors were 'Yadhuvanshis' as they used to rear cows. In this direction, a Muslim gaushala has also been set up in Mewat," he said.
The chief minister said that Bhani Ram Mangla has been appointed the Chairman of 'Gau Seva Aayog' which has become functional from today. Mangla belongs to Mewat.
Khattar urged the people residing in urban areas that if they are unable to rear cows in their houses then they could ask their relatives living in rural areas to rear an extra cow on their account, according to an official release.
Notably, under the provisions of the new law, cow trafficking, slaughtering and eating beef are banned in the state.
For "protection and upkeep" of cows, Haryana Assembly had in March this year passed the Bill which clamps a complete ban on cow slaughter in the state and provides for a rigorous imprisonment ranging from three years to ten years for killing the animal. — PTI
Top News
Rescue workers break through the 60-metre stretch of rubble ...
Education dept issues the dismissal orders following approva...
Dhankar described Gandhi as the 'mahapurush' of the last cen...
Sikhs of America says gurdwaras are places of worship and sh...
An apex court bench says there is nothing serious in his hea...