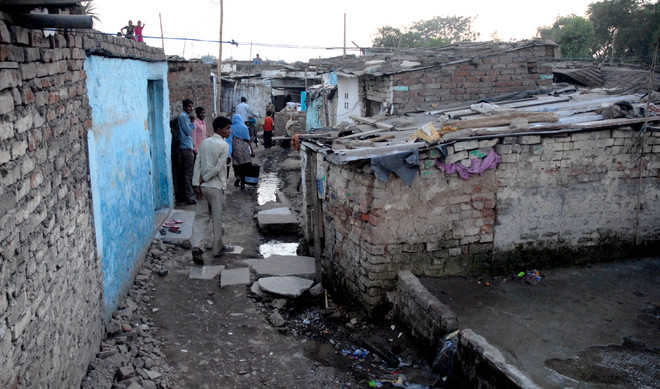 Tribune News Service
Chandigarh, June 23
The Punjab and Haryana High Court today restrained the Chandigarh Administration from forcibly evicting slum-dwellers from five slums and labour colonies in the city. A vacation Bench of the High Court observed that the City Beautiful would not remain "beautiful" in case the services of slum-dwellers were no longer available.
As the case came up for hearing, the Bench of Justice M Jeyapaul and Justice Harinder Singh Sidhu restrained the Administration from evicting the dwellers from Colony No. 4, Sanjay Colony, Adarsh Colony, Indira Colony and the Sector 25 Janta Colony.
The court was told around 1,500 people putting up in slums and colonies were under a constant threat of demolition and forcible eviction by the Chandigarh Administration. In case the demolition was carried out, the dwellers would be without shelter during the monsoon.
Taking up the petition filed by the Parvasi Bhalai Sangathan through counsel HC Arora, the Bench also issued a notice of motion to the Chandigarh Administration, the Home Secretary and the Deputy Commissioner for July 25.
The petitioner contended that the dwellers should first be rehabilitated by providing alternative accommodation. Directions were also sought to the respondent-Administration to pay adequate compensation to the dwellers of Maloya Colony and Lal Bahadur Shastri Colony as their huts were demolished in April. Arora added that the inhabitants of these two colonies should also be provided alternative accommodation in Chandigarh.
Arora added that the demolition in the colonies was carried out without prior notices to the residents, forcing the residents to live under the open sky. The petitioner also enclosed photographs of demolition carried out by the Chandigarh Administration in the two colonies. Senior counsel ML Saggar, along with Arora, submitted that the residents deserved to be protected as they were residing there for the past several years.