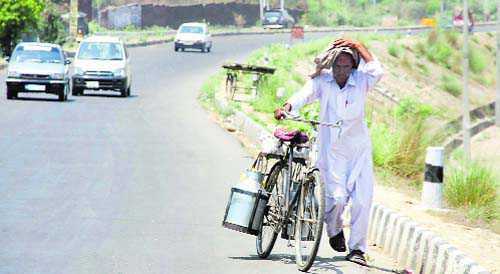 Tribune News Service
Jammu, April 28
As the urban local bodies across the state have failed to check milk adulteration, the Health Department has decided to launch a comprehensive campaign to check supply of poor-quality milk to the residents of the state.
The Health Department has decided to set up nakas at various places across the state to ensure that only unadulterated milk is supplied to people.
The Health Department has taken the initiative following directions of Health Minister Bali Bhagat, who has received complaints about supply of poor quality and adulterated milk across the state.
According to official sources, teams of the Drugs and Food Control Organisation (DFCO) have set up nakas on the entry point of Jammu city. Nakas have been set up at Bhagwati Nagar bridge, Canal Head, main road, Barnai, and Purmandal Morh. Not only teams of the DFCO have set up nakas at the entry points, but some teams are also conducting random checking of milk being supplied in the city.
There was a proposal to purchase mobile testing labs to check milk adulterations in the city, but due to paucity of funds the authorities could not purchase these labs. Due to the delay, there is no check on the sale of contaminated and poor quality of milk products.
As reported earlier the proposal to purchase mobile labs was mooted more than four years ago after an alarming report by the Food Safety and Standard Authority of India (FSSAI) in January 2012 that 83 per cent of milk sold in the state is not safe for consumption.
The FSSAI had taken 18 samples from different areas of the state as part of its nationwide study and had found that most common adulteration in the state is glucose and skimmed milk products (SMP), mixed with intention to earn profit at the expenses of the heath of the common man.
Top News
The search operation turns into an encounter after the terro...
The judgment was reserved less than a fortnight back by the ...
Police have not disclosed the identity of the deceased but s...
RJD says new alliance to oppose BJP's 'divisive agenda' | BJ...
This is for the first time that a booster dose that is diffe...