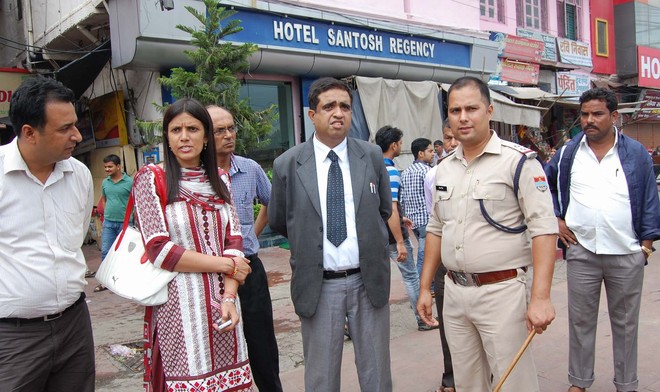 Tribune News Service
Haridwar, August 17
The National Green Tribunal(NGT) will hear the report of its Local Commissioner Shakir Zaidi on August 19, who had twice visited the Har-ki-Pauri to inspect the implementation of the tribunal orders to stop the use of polythene bags and plastic canes at the sanctum sanctorum zone. The district administration and the Municipal Corporation are carrying out impromptu raids at the site to ensure that the NGT directives are adhered to.
Led by Chief Town Officer Vipra Trivedi, Circle Officer City Chandra Mohan, tehsildar Dinesh Mohan Uniyal and Har-ki-Pauri police station in charge Mohan Singh, administrative-civic team for past two days are carrying out inspection and penalty drive on NGT directive violator traders and vendors.
The administration in its drive has seized huge quantity of polythene bags and cans from traders and vendors and penalized them.
Vipra Trivedi said, "The NGT directives are clear and no one is allowed to carry polythene bags and canes in and around Har-ki-Pauri."
Circle Officer Chandra Mohan said, "The NGT has even banned the sale of 'prasad' in polythene packets."
Tehsildar Dinesh Mohan urged local traders, vendors, hoteliers, owners of the guest houses, dharamshala-ashram management, local people, pilgrims and tourists to cooperate with the administration in making the area around Har-ki-Pauri polythene free.
President of the Small Scale Vendors and Hawkers Association Sanjay Chopra said he had urged members of the association to shun usage or selling of products in polythene bags and instead prefer paper or jute bags.
Traders' city unit president Suresh Gulati has expressed unhappiness over the NGT directives and said the decision had been taken without taking local traders into confidence.
He said traders were also in support of making Har-ki-Pauri a polythene free zone, but the government, NGT, district administration and the civic body should give some time to dispose of the existing stock and should also provide them paper or jute bags at concessional rates.