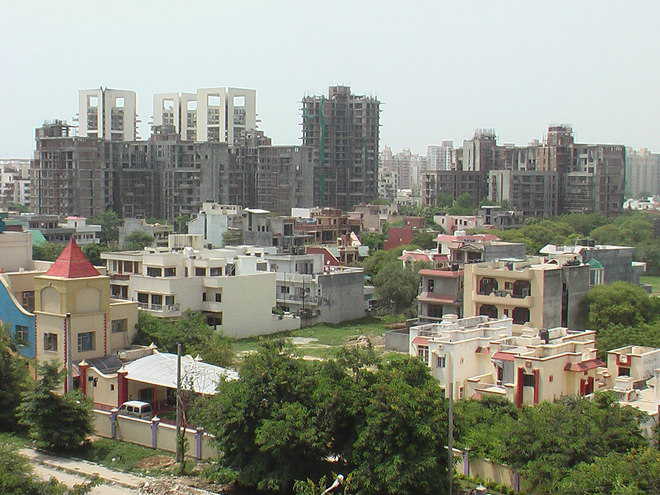 Vinod Behl
After years of unplanned growth and deficient infrastructure, badly hitting the quality of life in Gurugram, finally there is a hope for a planned, integrated, sustained and speedy development and growth of the millennium city, as the much awaited Gurgaon Development Authority (GDA) starts taking its shape, following the Draft GDA Bill put up by the Haryana Government.
The government has appointed senior IAS officer, V. Umashankar, as the OSD to GDA, to carry forward the process of formation of development authority. Umashankar has initiated an elaborate process of seeking feedback from all sections of society for the purpose of incorporating some of the suggestions in the final legislation draft that will reportedly come out by December 10, setting the stage for the enactment of the GDA Act, leading to its formation in the new year.
In a run up to the formation of GDA, it is important to mention that the flawed model of real estate development preceding infra development, has been the bane of Gurugram in terms of deficient infra as well as for denying the city the tag of 'Smart City'. Even the residents of the newly inhabited sectors (Sector 58 onward), have been facing hardships due to infra bottlenecks. Navin Raheja, CMD, Raheja Developers, says, "The development of roads and infra should precede issuance of licenses. The first task GDA should take up, is to provide infra like drinking water, electricity, roads, social amenities to thousands of home owners, occupying completed projects without electricity and water".
V. Umashankar assures saying that the proposed authority will focus on infra development, mobility, urban environment and sustainable development, with first priority to prepare a master plan with a view to improve the standard of living in the city.
Hope for cash-starved HUDA
Another major reason for development works taking a hit is the cash-strapped HUDA. A significant part of thousands of crores of EDC collected from developers in Gurugram, remains unspent amidst charges of diversion of funds. Raheja says that the EDC collected under the respective master plan, should be spent on the same master plan and should not be diverted. V. Umashankar has gone on record assuring that EDC money for Gurugram will be spent there only.
Even the draft Bill says that GDA will get monies received or due to be received by state government and unspent on account of EDC, along with share of money collected by MCG, prior to commencement of GDP Act. There are other provisions in the draft bill to provide financial strength/stability to GDA.
Road to better coordination
Considering that Gurugram's development has been bogged down by multiplicity of authorities, the GDA will ensure complete coordination with all other agencies. As V. Umashankar puts it, "As the infra planning and implementation body, GDA will see to it that other government agencies, work in tandem, in accordance with the plan, ensuring integrated development". Adds MC Gupta, "GDA is a great necessity, considering population explosion and unprecedented expansion of Gurugram on both sides of NH8, amidst lack of coordination".
The mechanics of development
GMC created constitutionally, will remain in force, while in case of HUDA and HSIIDC, within three months of commencement of GDA Act, a scheme will be outlined to transfer HUDA/HSIIDC property, interest, interest in property, right and liabilities to GDA.
Mind the gaps
But, as absolute power of the development authority, has been curtailed by keeping licensing and CLU out of its purview, doubts are being raised about its efficacy. S.P Gupta, DG, HIPA says that HIPA panel had clearly said that GDA will enjoy the powers of licensing and CLU which currently vests with the Department of Town & Country Planning, Haryana. EveryDevelopment authority enjoys the licensing and CLU power. Raheja offers a solution, "As licensing process involves high level administrative and policy decision and coordination at government level, the office of Town & Country Planning should operate out of Gurugram, especially as 80 per cent of licenses are from Gurugram".
There is another significant gap between the HIPA draft and the one put up by the government. While the former made a clear case for appointing an officer of the rank of additional chief secretary as CEO to make GDA a powerful body for effective coordination, the latter settled for a junior officer of the rank of Principal Secretary, to head the development authority. Says M.C Gupta, "GDA has to be an effective agency whose writ must run.
I believe GDA should be headed by a very senior level officer as he has to coordinate with senior officers and will have to negotiate with multilateral agencies at international level. We wanted it to be like Noida Development Authority, with all the powers vesting with it and state government and its departments delegating their powers and responsibilities to GDA. I would say that whatever we put in the draft, we stand by it. Ultimately, it is for the government to decide what is in the best interest of GDA. Fortunately, we have a very capable officer, V. Umashankar as OSD, GDA, overseeing the process of formation of GDA, especially carrying out comprehensive consultation process with all the stakeholders". Adds P. K Jain, Founder President, Gurugram Chamber of Commerce & Industry, "Whatever form or structure of GDA is finally there, it should be a single agency, collecting taxes , taking care of water supply, sewerage, solid waste disposal etc, besides looking after maintenance. The uniform and harmonious building construction should be ensured and GDA should have financial powers and financial stability". Pankaj Kumra, Retd Chief Engineer, HUDA endorses GCCI view that GDA should have a powerful financial structure besides having strong land acquisition, town planning and architectural wings. Meanwhile, V Umashankar is treading cautiously towards flawless formation of GDA, with right structure, accountability and credibility, by adopting transparent and consultative approach. As GDA heads towards becoming a reality, general public, industry, businesses and other stake holders are pinning great hopes about the transformation of Gurugram. As Raheja sums up, "The real estate business has been suffering due to deficient infra. But GDA will ensure ease of doing business, ushering in transparency and making real estate in Gurugram as an attractive asset class and in turn pushing up its demand".
---
Structure of GDA
Chairman — Chief Minister
Ex-officio members— Town & Country Planning Minister, ULBs Minister, MPs, MLAs, Mayor GMC, CEO, GDA, Chief Administrator, HUDA, Commissioner, MCG, Deputy Commissioner.
Ex-officio members (nominated by government) — 6
Ex-officio members (experts from urban infra, governance, public administration, urban forestry, engineering, town planning)— 6
---
Recommendations
The panel recommended absolute powers for GDA as an autonomous body with entire district and even KMP Expressway and proposed Global Corridor under its jurisdiction. It was recommended that a serving IAS officer of the rank of additional chief secretary should head the authority that will enjoy the powers of licensing and change of land use, which currently vests with the Department of Town & Country Planning, in addition to powers of planning and development of infrastructure. The panel also noted that urban areas and controlled areas of Gurugram district will cease to vest in HUDA and it will cease to exercise jurisdiction in that area. Further it was mentioned that all land, buildings and immovable properties in Gurugram district and vested in HUDA for carrying out development work, shall pass on to GDA. Similarly, assets and liability of Haryana State Industrial & Infrastructure Corporation (HSIIDC) will be transferred to GDA.
---
What the draft Bill says
The Draft Bill provides for integrated planning and coordinated development of urban infra by coordinating with GMC, boards, companies or other agencies involved in the provision of infrastructure, urban amenities and management of urban environment in notified area. Within a period of 9 months from the GDA Act coming into force, infrastructure development plan will be prepared including (but not limited to) roads, water supply, sewerage disposal, storm water drainage, solid waste management, public transportation, urban forestry and other urban amenities required for reasonable standard of living. To facilitate the functioning of GDA, coordination committees (consisting of GDA/government officers) and standing committees ( including citizens) will be formed. There will be a Citizen Advisory Council as well.
Top News
Gurpatwant Pannu, head of the banned terror outfit Sikhs For...
'Sidhu Moosewala murder mastermind will be very soon in the ...
NIA had announces Rs 10 lakh reward on Harpreet Singh alias ...
2 Akali leaders distance themselves from the Unity and Coord...