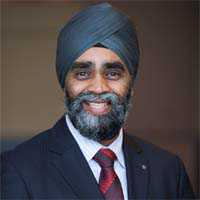 Sanjiv Kumar Bakshi
Hoshiarpur, October 20
Born in Bambeli village in Mahilpur block of the district, Harjit Singh Sajjan has been elected MP from Vancouver South, getting 48.8 per cent of the votes. Sajjan beat Tory incumbent Wai Young who got only 33.9 per cent of the votes. The second Indo-Canadian Punjabi candidate Amandeep Nijjar of the NDP remained third with 14 per cent vote share.
Son of a Punjab Police head constable Kundan Singh Sajjan, Lt. Col Harjit Sajjan was the first Sikh in Canada to take command of a British Columbia regiment on September 11, 2011.
As the news of his win reached the village this morning, residents thronged his cousin Jasbir Singh's house. "Sajjan's father left for Canada in 1973 with his family. At that time Harjit was 8-years-old and studied in the government primary school in the village," recalled Jasbir.
Harjit joined the British Columbia Regiment as a Trooper in 1989 and was commissioned in the regiment in 1991. He was promoted to the rank of Captain in 1995 and became a Major in 2005. During his service, he served in Bosnia-Herzegovina and Afghanistan.
He received the Commander-in-Chief, 2nd Chief of Defence staff, US Army Commendations and Deputy Minister's National Defence Award. Sajjan was also awarded the 'Order of Military Merit', one of the military's highest recognition in Canada.