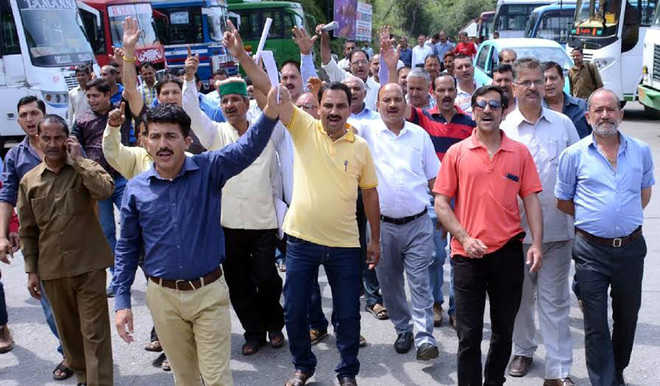 Lalit Mohan
Tribune News Service
Dharamsala, June 11
The Himachal Road Transport Corporation (HRTC) will urge the state government to pay Rs 150 crore as general provident fund (GPF) to its employees.
The decision was taken at a meeting of the Board of Directors of the HRTC today. The board decided to request the government to form a committee headed by the Chief Secretary to decide on the payment of the GPF.
The Board of Directors also decided to write to the government for conversion of the HRTC into roadways. It implies that they want the state government to take over the roadways corporation. At present, the HRTC is a public sector unit and in case, it is made roadways, it shall become a government department and all liabilities of the employees will pass on to the government.
Transport Minister GS Bali said the last three years' GPF had been cleared. Since the present government has taken over, all dues of the employees have been paid by the corporation. "The pending GPF pertains to the stint of the previous BJP government," the minister said.
The Joint Coordination Committee (JCC) of the HRTC employees had called for a strike on June 14 and 15. Bali said the HRTC had given benefits of Rs 500 crore to its employees in the last three years.
The board today approved Rs 10 crore as special increment and Rs 20 crore as overtime/ travelling allowance. It also gave its nod to increase the washing allowance from Rs 30 to Rs 60. "The monetary relief given on sudden death of a serving employee under benevolent fund has been enhanced from Rs 1 lakh to Rs 1.25 lakh and for retired employees from Rs 20,000 to Rs 25,000," the minister said.
Bali said pension dues would be cleared by the end of this month. He alleged that despite the monetary benefits given in the last three years, a few employees, who were suspended for indiscipline and misbehaviour, were influencing the JCC and pressurising the management by threatening strikes and protests.
He alleged that the employees were the office-bearers of the Bharatiya Majdoor Sangh (BMS), the trade union wing of the BJP.
"The HRTC is a disciplined organisation and no one will be allowed to vitiate its working environment," he said.
The minister urged the people of the state to make an alternative travel plan to avoid inconvenience during the JCC's strike. He also warned the employees of strict disciplinary action if the general public was harassed. Earlier, in the morning, JCC members raised slogans against the Transport Minister.
Top News
7 others, including Ahmed's brother Khalid Azim alias Ashraf...
Writes to Mohit Rajan, Deputy Secretary in the MS Branch of ...
Amritpal's counsel on the other hand contended that he was i...
The earlier date for this was March 31
Sukhwinder Singh ran a finance business in Manila for the pa...