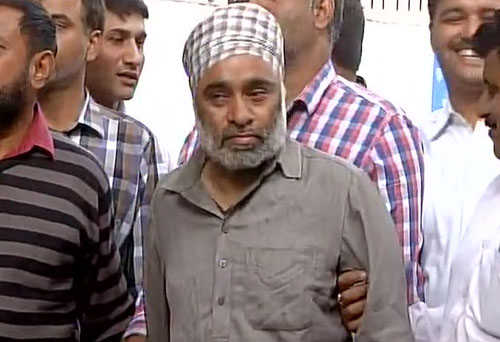 Aman Sood and Prateek Chauhan
Patiala/New Delhi/Chandigarh, November 28
Police have arrested Khalistan Liberation Force chief Harminder Singh Mintoo, who was freed along with another terrorist by four gangsters from the Nabha jail on Sunday.
Reports from Delhi say Mintoo was arrested on Sunday night from the Delhi railway station from where he was to board a train. He is being interrogated by the IB and Delhi Police.
Mintoo's preliminary interrogation revealed that two insiders in the jail and an inmate facilitated his escape.
A Delhi court sent Mintoo to seven days' police custody.
Meanwhile, security agencies on Monday continued their hunt for the others in the Nabha jailbreak.
Police and security agencies were alerted in six states--Punjab, Haryana, Uttarakhand, Rajasthan, Uttar Pradesh and Himachal Pradesh. Routes towards Nepal were also being checked.
"Raids are being conducted at various places. It appears that the prisoners who escaped and their attackers went in separate directions soon after escaping from the Nabha prison," a senior Punjab Police officer said on Monday.
In neighbouring Haryana, Haryana Police and Punjab Police confirmed the recovery of a Hyundai Verna car from a village in Kaithal district. The abandoned car was one of the getaway vehicles used by the escaped prisoners and their attackers.
"On search of the car, we recovered a police uniform and some mobile numbers. We are investigating this. The registration number plates of the car are fake," a Haryana Police official in Kaithal said.
Khalistan Liberation Force chief Harminder Singh Mintoo, Kashmir Singh (both terrorists) and dreaded gangsters Gurpreet Sekhon, Vicky Gounder, Amandeep Dhotian and Neeta Deol--had escaped from the Nabha Jail after the attack.
Uttar Pradesh Police on Sunday evening nabbed gangster Parvinder Singh, who admitted to being one of the attackers in the jailbreak, from near Shamli town in Uttar Pradesh.
(Follow The Tribune on Facebook; and Twitter @thetribunechd)
Uttar Pradesh ADG (Law and Order) Daljeet Chowdhary said Parvinder, who was in a Toyota Fortuner SUV, was intercepted by police in the western UP district in the evening and arrested.
A haul of weapons, including three rifles and one SLR was also recovered from the vehicle.
"Punjab Police has been informed about the arrest. He is being questioned for further leads on his accomplices. He is the main accused in the jailbreak," Chaudhary said.
A high alert was sounded across north India after armed men, said to be 10-12 in number, attacked the jail. The attackers, dressed in police uniform, came in three-four cars and breached the tight security of the prison around 9 am.
Witnesses said the attackers fired at least 100 rounds during a well-planned and executed attack that lasted barely 10 minutes. Despite several rounds of firing, no one was injured. Official sources said the security in the jail did not retaliate, raising suspicion.
DGP Arora admitted that "conspiracy", "connivance" and "lapses" led to the incident.
A young woman, Neha, who was a dancer with a dance troupe, was killed as a police team fired at a car which did not stop at a security barricade near Samana town. Punjab DGP Suresh Arora admitted that the incident was a case of "mistaken identity".
A security lockdown was ordered along Punjab's border with Haryana and Rajasthan and with Pakistan.
The Punjab government has announced a reward of Rs 25 lakh to anyone giving information leading to the arrest of the six prisoners.
Deputy Chief Minister and Home Minister Sukhbir Singh Badal, who visited the jail on Sunday afternoon, tweeted: "Pak(istan) desperate to revive terror post surgical strike. Could be behind jail break."
"We will uncover the conspiracy behind jailbreak at all costs," he added.
The Punjab government suspended Additional DGP, Jails, MK Tiwari. The Nabha Jail Superintendent and his deputy were dismissed from service, Badal said.
Mintoo produced in Delhi court
Mintoo was arrested from New Delhi railway station. This operation was jointly done by Punjab Police and Delhi Police Special cell.
After escaping from Punjab jail Mintoo called a relative in Subhash Nagar in Delhi. Following the phone call Punjab Police tipped off Delhi Police special cell about Mintoo's whereabouts.
According to a special cell official, Mintoo was produced in Patiala House Court.
Mintoo, Pinda to be brought back
The Patiala police said they would bring Palwinder Pinda, who was arrested in UP in connection with the jailbreak, to Patiala and quiz him.
UP Police said Pinda was on way to Dehradun after breaking a nakka near Karnal. He had dropped all others in Haryana and was alone in his Fortuner. Three policemen were on the naka at Shamli who encircled his vehicle. Four guns were found from the vehicle.
"The special operation cell will also question Mintoo to get to the bottom of the jailbreak," said a senior police officer in Patiala. He said Mintoo was to get to Nepal and through Malaysia was to leave for Pakistan. However, his facilitator in UP backed out following which his plan was altered at the last minute and he was asked to board a train and reach Uttarakhand and escape to Nepal. He would be brought back by Monday evening.
Meanwhile, Additional Chief Secretary Jagpal Sandhu and newly appointed Additional DGP Rohit Choudhary reached Nabha Jail to review the situation.
Insiders facilitated escape
Meanwhile, the Patiala police is in Delhi to take custody of Mintoo.
Mintoo's initial interrogation revealed that two insiders in the jail and an inmate facilitated his escape. Mintoo got in touch with gangster Vicky Gounder though these people and this is when Gounder told him about his plan to escape.
Mintoo was in constant touch with his links to use the Uttarakhand route to escape to Nepal. With agencies
Top News
Congress leader has been trapped in the consequences of the ...
About 47.58 lakh government employees and 69.76 lakh pension...
LS secretariat has sent notification to EC to declare Wayana...
Prominent leaders stopped by police and detained at Vijay Ch...
Overrules a 2011 verdict by a two-judge Bench