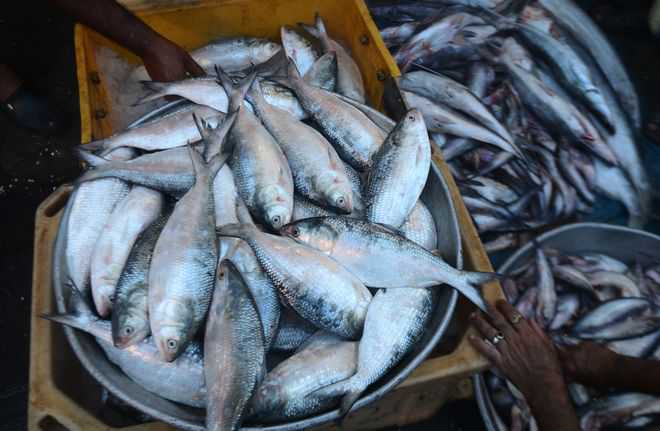 Pratibha Chauhan
Tribune News Service
Shimla, September 4
Struggling to maintain the current fish production, which is falling drastically every year, the vision document of the Fisheries Department paints a grim picture as far as the fisheries promotion is concerned. This despite the fact that cold waters of the state are a natural ground for trout fish.
There is a good potential for promoting riverine fisheries in the state, but the expansion of the hydro power sector has resulted in the shrinking of rivers and streams and high silt levels. Rampant sand mining and indiscriminate use of pesticides have further aggravated the problem.
The bleak future of fisheries is even reflected in the "Vision and Perspective Plan" released by the Department of Fisheries earlier this week. The department is keeping its fingers crossed to even maintain the production of 5,393 tonnes in 2014-15 as it feels that with the commissioning of 294 hydro power projects in the recent years, the downward trend will be difficult to arrest.
The fish production from the rivers and streams is falling drastically each year and the multi-pronged environmental assault is proving to be too damaging for the fisheries promotion. The state has some precious mahseer reserves .
Though the power policy stipulates a minimum discharge of 15 per cent ecological flow of rivers, the failure of the regulatory authority to check this has converted riverbeds into sandy deserts. That's how the department perceives the threat from hydro power generation. As a further blow to the riverine fisheries, under the revised hydro-power policy, there is no requirement for micro hydel project developers to prepare environmental and social impact reports.
The vision document reflects that the coming up of hundreds of micro-hydel projects has drastically affected the streams environmental flow in Kangra, Kullu and Chamba. The picture is so grim that the project commissioned on the Sujan Nullah is virtually threatening the hatchery of the prestigious Indo-Norwegian trout project which is the lifeline of the entire trout farming programme of the state.
Perceived as one of the major threats, the commissioning of 92 power projects, in the last few years has altered the river hydrology and blocked migratory routes exterminating spawning and feeding grounds of fish.
Adding to the already bad situation is the array of pesticides and insecticides being used by farmers and fruit growers. As per data being collected by the department, 30 tonnes of these are being used in Kullu district itself, which shows the extent to which it is being used in the entire state. The indiscriminate mining of cobbles, sand and gravel from river beds is leading to vanishing feeding and breeding grounds of juvenile fish.
The department now plans to undertake bio-mapping of all major rivers, streams and more importantly involve local panchayats who have the potential to play an active role.