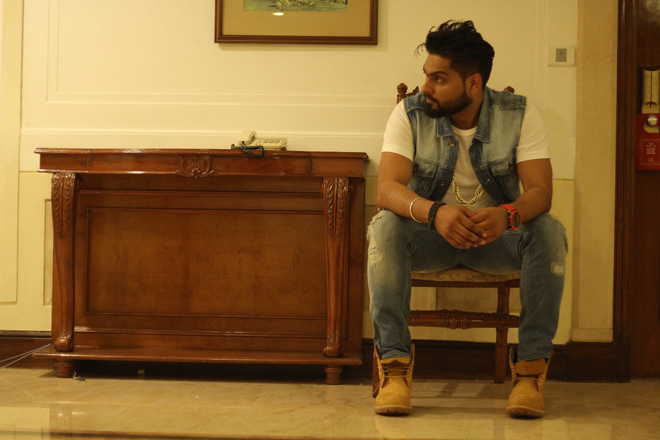 Jasmine Singh
Nothing has changed, yet, everything around him has altered. For good or bad, this doesn't bother Punjabi singing sensation Navv Inder, because he is just grateful that the group friends that used to hang out before his song Wakhra Swag touched 24 million hits, still treat him like 'just' Navv, and his parents back home still don't understand what is keeping their young son so occupied.
Navv's song Wakhra Swag, which features Badshah is the most played song at all parties, so much so, this apparently is also the most-touched song in the Delhi, Mumbai and Bangalore party circuit. Quiz Navv on the same, and he just shrugs his shoulders. "Mainu tan aap reason nahi samjh aaya, how come everyone has liked this song so much," shares the singer as he draws attention to the one thing that has changed after this instant success, "I have lost weight, and I am busy," he smiles as Navv readies for the release of his next track Att Tera Yaar, the announcement of which has already made his fans comment what it would be like. "It will definitely be nice because, I only sing songs which I would love to hear for a long time. And this means, I am not singing demeaning or vulgar," the singer makes his intentions on the type of songs he would be singing in the near future absolutely clear.
With the expectation level for his next track Att Tera Yaar rising, Navv is simply unfazed by it! "I didn't expect Wakhra Swag to touch 24 million, I just sang the song, and I haven't decided any number for the next track, which is written by Navvi Kamboz, the man who wrote the previous hit track."
Wakhra Swag was as we talk style, which is why it clicked! "Really, so this is what worked, I am only giving a good track is all now," the singer is still gung ho about listening to Amrinder Gill and Babbu Mann, and others singers of the music industry.
Navv's next track comes out with Speed Records, a change from the previous record label that fetched him so much fame? "It is all about cracking a good deal and making sure that my hard work reaches out properly, through the right medium. My success has changed the attitude of people who cared two hoots about me earlier," Navv wouldn't mince words, "Haven't you heard that the winner stand alone, I am not counting myself as a success story, but yes, when you reach at some height, you attract all kinds of people, and not everyone can competitors success in their stride." Navv gets a pat on his back from his friends sitting around him, "he is not going to change," they echo together.
Despite the game play of politics in creative field Navv doesn't deny that marketing and strategising go a long way in promotion of a singer. "But if the song is good," he quickly backs it. So, do we hear Wakhra Swag swinging its way into a Bollywood film? "Let's see." And do we see, the rustic-looking singer sparkle on the silver screen, "No, this is not happening. I want to sing, and sing good as of now. I have another track coming with Badshah, which could be good," he adds, as we sense some self-doubt! "Doubt is good, it means I can still improve, I am simply confident after Wakhra Swag, I know tables can turn anytime the day someone up there decides to do so," Navv looks at his friends who are used to his philosophical bouts, "tu nahi badalna," they echo again.
jasmine@tribunemail.com
Top Stories