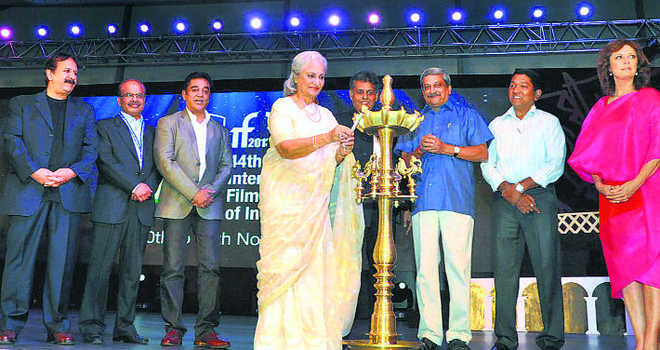 Nonika Singh in Chandigarh
Golden jubilee is a milestone by all means. As India's biggest, and perhaps the most panned, film festival gets ready for a landmark year, we pause, ponder and wonder. What makes the International Film Festival of India click, or tick the wrong boxes? For years now the Festival has been attracting cinephiles in huge numbers. Each year a buffet of films from across the world are screened at Goa, the Festival's idyllic and permanent destination since 2004. Expectedly this year too as curtains go up on November 20, around 200 films from 76 countries are expected to be screened.
But the question is not of number, rather of how many more feathers will the Festival add or shed to the glory of the dancing peacock, its official insignia? Among the many highlights will be the presence of Amitabh Bachchan. Not that this will be the first time he will be gracing IFFI. Each year a fair sprinkling of Bollywood bigwigs and regional superstars keep their date with the Festival. From Rajinikanth to Kamal Hassan to Akshay Kumar to Shah Rukh Khan, many A-listers have been special guests.
The star-studded affair, which has become a norm since the past few years, forces Malayalam actor Kannan Nayar to dub the Festival as yet another film awards night. Part of the team that tried its level best to ensure their film Durga, dropped rather unceremoniously, found its due place at the Festival, undeniably Kannan's experience has been unsavoury.
Magical experience
Down the memory lane when the Festival was a revolving one and was held at New Delhi, writer Ritesh Shah can only recall the magic of IFFI. Those were the days when access to international cinema was limited. Shah would catch up on as many as three films a day. Besides, it was the Festival that introduced him to the likes of Iranian auteur Abbas Kiarostami.
Iranian cinema has been the toast of the Festival since a long time and continues to find favour. Divya Dutta, a festival regular in varying capacities as jury member and panel delegate, shares how meeting her all-time favourite Iranian director Majid Majidi was an enthralling moment in her cinematic journey. All set to be a guest again, in the capacity of FTII governing council member, she can only count its strengths.
Kannan, however, continues to remind us of its downside. Sure he is happy with the selection of three Malayalam and two Tamil films in the Indian Panorama section this year. Nevertheless, he has a complaint — he claims a film of a jury member has been selected. "Doesn't selection of the jury member's film amount to conflict of interest?" he asks.
In fact, on the composition of jury members itself, it's not him but others too who are circumspect. Malayalam filmmaker Bijukumar Damodaran, aka Dr Biju, whose films have been screened four times at IFFI, the last one as recently as in 2016 , says, "Except for the chairman, the credibility of jury members of the Indian Panorama section in the recent past often has not been up to the mark." Yet another grouse he has is the "absence of a marketing platform. While screening at international festivals automatically ensures the film is picked up for other festivals, no such doors open at IFFI".
Sure Film Bazar exists and almost runs as a parallel event, but one has to pay extra for registration. There are no ancillary benefits for independent filmmakers, even when their films are selected for the Festival.
Selection of certain kind of films which Kannan calls "propaganda films" and Dr Biju "mainstream films" too is a bone of contention. They feel this takes away the gravitas that should define a festival of international repute.
Sceptics and admirers
Of course, for every sceptical voice there are many admirers too. Sonu Sood, who performed at the inaugural function at the 49th edition, believes since the last few years the Festival has only become better and bigger. Even though younger and better curated festivals like MAMI might be fast catching up, the enthusiasm of movie buffs at Kerala's film festival might be unbeatable, IFFI still continues to be a huge draw and filmmakers like Dr Biju make it a point to visit. This year he is part of a panel discussion on environment and cinema. But otherwise, too, he loves to be there and catches up with makers from different regions, with IFFI bringing the makers and movies of different hues together.
For beyond all that might not be right with IFFI, the power of cinema, especially regional, does pulsate here with a throbbing force. A little more than a month away, things may not be fully in place and details are sketchy. But rest assured, movies here will be both a slice of life and, to borrow from Alfred Hitchcock, a slice of cake. In short, something for everyone.
---
International Film Festival of India
The beginning
IFFI started in 1952. It was organised by the Films Division of the government, under the patronage of India's first Prime Minister Jawaharlal Nehru, in Mumbai. As many as 23 countries sent their entries, giving the festival a flying start. This year, 76 countries are expected to send in over 200 entries.
Initial years
The Festival, after kicking off at Mumbai, was held in different cities like Delhi, Kolkata and Chennai in the next few years. Besides, it was not an annual affair to begin with — the second edition came in 1961 and third in 1965.
First winner
The competition segment was introduced at its third edition and the first movie to win the Golden Peacock Award was Sri Lanka's Gamperaliya.
The insignia
In 1975, IFFI adopted a representation of peacock as its permanent insignia.
Goa is home
Since 2004, Goa has become Festival's permanent address. Besides, it has been an annual event since the 2004 edition. From being the first film festival of Asia, it is today a global one.
Top of the line
In the last five years, IFFI has showcased critically-acclaimed movies like Bicycle Thieves, Miracle in Milan, Yukiwariso, The River, The Fall of Berlin, etc. A few art films such as Life of Pi, Mandela: Long Walk To Freedom, The Man Who Knew Infinity, too, have been showcased.
Controversies
The Festival is no stranger to controversies. The latest to shake the Festival happened two years back when two films, Nude and Durga, were dropped from the line-up even though they were selected by the jury. This forced Sujoy Ghosh, jury head of the Indian Panorama section, to quit.
Mainstream movies
in Indian Panaroma this year
Uri Aditya Dhar
F2 Anil Ravipudi
Gully Boy Zoya Akhtar
Super 30 Vikash Bahl
Badhaai Ho AR Sharma
Amitabh special
The Festival will honour Amitabh Bachchan by screening a few of his most impactful movies. The actor has been conferred with the Dadasaheb Phalke Award this year.
Top Stories