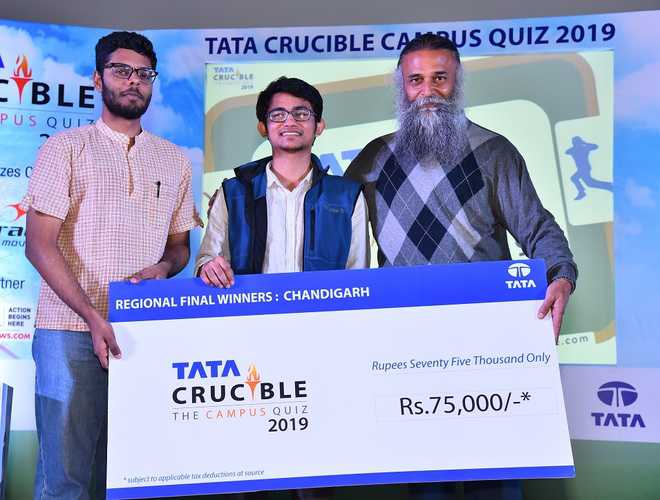 Team from Indian Indian Institute of Science Education and Research (IISER) comprising Abhijit Bhalachandra & Ojaswi Gupta has won the Chandigarh regional finals of Tata Crucible Campus Quiz 2019.
A total of 38 teams battled it out in the city level finale for the top honours. The winners took home a cash prize of Rs 75,000 and will compete in the zonal round to qualify for the national finale. Kritika Bedwal & Bipin Kumar Yadav from University Institute of Engineering and Technology, Punjab University were declared runners-up, winning a cash prize of Rs 35,000. Dr. Arvind, Director, IISER was the Chief Guest at the finale.
This year, the theme of the quiz has been designed in a T-20 cricket format to celebrate the 2019 Cricket World Cup. Noted quizmaster 'Pickbrain' Giri Balasubramaniam hosted the quiz in his masterful, unique and witty style.
The fifteenth edition of India's biggest campus quiz will run for a little over two months, traversing 40 cities, with five zonal rounds leading to the grand national finale in Mumbai. The winners of the National Finals will receive a Grand Prize of Rs 5,00,000 along with the coveted Tata Crucible trophy.
SRM students win laurels in Developer Week Hackathon at UC Berkley
A group of five SRM University, Amaravati, students, who are on a Semester Abroad Programme with University of California, Berkeley, won the Developer Week Hackathon that took place in San Francisco, CA. Developer Week Hackathon is the one of the world's largest challenge driven hackathon.
The team developed a Blockchain-based game that incentivises people to buy products. They built an Ethereum-based card trading game for shoppers. The game attracts shoppers to buy more products and help sellers to get greater consumer attention. The team incorporated Agoraio's chatting platform in the game which was liked by the Agoraio developers. They were awarded the first prize for this feature and a bounty prize of $1,000 from Agoraio.
The SRM AP team comprised Koushik Bhargav Muthe, Saptarshi Mazumder, Rajarshi Mazumder, Agniswar Paul, and Souradeep Das. Four of them were from Computer Science Engineering, and one from Electronic and Communication Engineering.
Koushik Bhargav Muthe also led another team that was amongst the top 5 teams at the overall Hackathon (150+ teams participated) and also stood first for the "best blockchain utility Hack" giving them a bounty of $500 from Near Protocol. — TNS
Top News
Situation in Sasaram and Biharsharif normal, say police
Notably, Shah's tour of Sasaram in Rohtas district has been ...
The Kabul-born Durani played 29 Tests
Bodies of eight persons were found on Friday in a marsh on t...
'Plot to impose President's rule in Punjab'