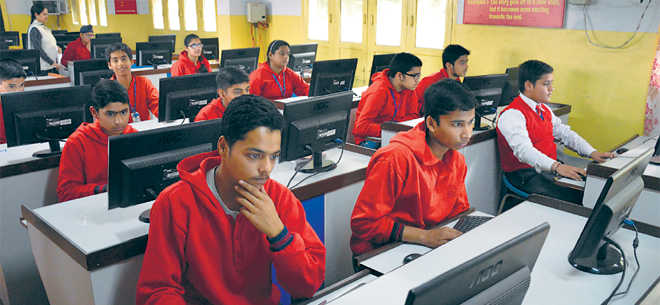 Vijay C Roy & Sanjay Khurana in Chandigarh
Machine learning and artificial intelligence, experts and educationists say, cannot entirely replace the learning system. They say excessive online education and shortcut technology platforms blunt creative skills.
"Relying only on e-learning can restrict the ability to think out-of-the-box, as one gets tuned to the software and the responses thereof. In the long run, people will not make effort to memorize things and rather keep on relying on their tablets/PCs etc," says Dr Sandeep Grover, Professor of Psychiatry, PGI, Chandigarh. He warns against excessive use of mobile phones/internet. "In the next decade, this would emerge as the biggest addiction, maybe more than any other substance. People have already started avoiding socializing, which is going to decrease with time. This is already leading to lack of acceptance of failure and problems in relationship and mental stress," says Dr Grover.
Prof. VS Rao, president, NIIT University, too, does not rule out negative implications. "Students are likely to develop poor studying habits and a lazy attitude towards education. Technical problems and computer malfunction can cause loss of assignments and other material, resulting in high levels of tension."
NIIT University in 2009 introduced M.Tech. in Educational Technology Programme, an interdisciplinary subject designed for future professionals. The course targets in-service (and pre-service) teachers and working professionals with a graduate degree in any discipline with relevant experience. "The programme is designed to train professionals, teachers included, in business process innovation or teaching-learning process innovation who in turn create value for the organization/ institution."
With the arrival of convergence technologies, learning process can be effectively engineered to make it brain-compatible with every learner (individual or organization). "The NIIT programme uses all information processing technologies to enhance learning effectiveness," says Prof Rao.
In the near future, he says, artificial intelligence could be seen more in the classroom. Programs that use artificial intelligence can act as tutors for students by determining what each student is struggling with and delivering personalized interventions, just as a teacher would, he said.
But he has a word of caution for app-based learning. "Data shows that those who are enrolled in online courses have higher chances of failing, dropping out, and are less likely to benefit from them. This could be because lessons delivered online or through digital resources lack face-to-face interaction between a teacher and a student," says Prof Rao.
Edurev founder Hardik Gupta says while there are merits in edtech, education is much more than transferring knowledge. "It lies in discussions, friendship, sports, debates, human interaction which can only happen in a school/institute environment. So, the objective should be to remove repetitive tasks and offer an environment of curiosity."
Experts are of the view that a large number of prospective learners cannot access education due to various factors such as remote location, inadequate infrastructure, shortage of teachers and the like.
Edtech startups not only resolve the issues, but are a great way to connect with other participants and the instructor. "Despite several advantages, the percentage of e-learners is small in India. Its ability to adapt and innovate will determine its future. The prospects seem bright in the long run with technology having immense potential to ensure equity in access to education and lowering its cost," says Rohit Manglik, CEO, EduGorilla.
Given the emergence of new technologies like automation and cognitive computing, 'up-skilling' has now become more important. "Not just Tier-1 cities, but also people from Tier 2 & 3 are turning to online education. The edtech space can only complement basic learning. We see a healthy co-existence between traditional way of learning and the modern technological help to improve one's overall skills," says Ishan Gupta, MD India, Udacity.
"Since students are active users of technology nowadays, they feel more confident in interacting and displaying their skills among their peers and teachers. Technology thus seems to be bridging the gap between the students and teachers. The need is to enhance human sensitivity towards learning," says Prof. VS Rao.
Top News
Says one of the Bills seeks to give representation in Assemb...
Among the 10 who put in their papers are nine Lok Sabha MPs,...
Resignation of Union ministers also revived speculation of r...
The withdrawal of statement by MP Senthil came when the Hous...
The Punjab DGP office had written a letter to Rajashthan Pol...