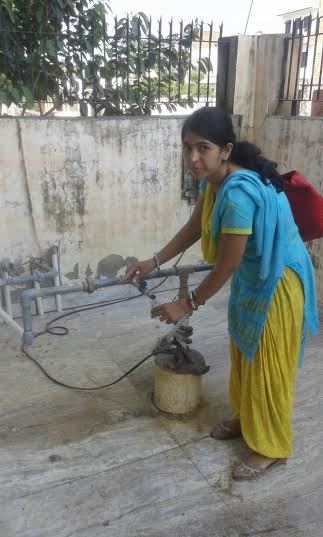 Ravinder Saini
Tribune News Service
Mahendragarh, December 9
A report on groundwater has sounded the alarm bells for people of the district, as fluoride content in water has been found 22 times higher than the permissible limit in Narnaul, the district headquarters.
Alarmed, officials of the National Programme for Prevention and Control of Fluorosis (NPPCF) have swung into action and launched a special awareness drive to motivate the people not to consume groundwater, as it may prove hazardous for their health.
Sources said the NPPCF officials, during the survey on groundwater, found 22.2 ppm (parts per million) fluoride content in the groundwater in the Sighana Road area in Narnaul.
The permissible limit of fluoride in water is 1 ppm.
Most of the people in Mahendragarh district are compelled to use groundwater for drinking and other purposes because of the scarcity of canal water.
"High fluoride concentration in water is causing health problems such as dental and skeletal fluorosis, anaemia, gastroenteritis, joint pains and other abdominal disorders among villagers," said Dr Sanjay Yadav, district consultant with the NPPCF.
Besides Sighana road area, the fluoride content has been recorded alarmingly high in Kultajpur (8.4 ppm), Akbarpur Ramu (8 ppm), Nangal Mittrapura (7.4 ppm each), Saidpur (7.3 ppm), Muraripur/Kanwi (6.6 ppm), Niwaz Nagar (6.4 ppm), Nimbehra (6 ppm), Bhungarka (6.2 ppm), Dhani Kirarod (6 ppm), Chapra Bibipur (5.9 ppm), Bhojawas (5.6 ppm), Mulodi (5.1 ppm), Mali Tibba Narnaul (4.2 ppm), Azam Nagar (4.4 ppm), Jatwas Mihara (4.1 ppm), Tazipur (5.6 ppm), Chanduwara Narnaul (4.3 ppm), Dharsoon (4.2 ppm), Karota (4.4 ppm) and Amarpur Jorasi (4 ppm) villages, the report said.
"Persistently depleting water table and fluoride-rich soil of Mahendragarh are the reasons behind rising fluoride content in groundwater in most of the villages. Samples were taken from the main source of water such as borewells and tube-wells," Dr Yadav said.
A laboratory had been set up in the Narnaul Civil Surgeon's office to check the fluoride level in water free of cost, he added.
Top Stories