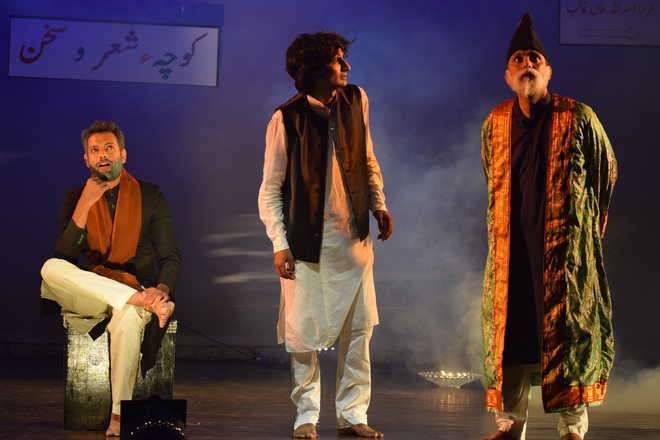 Rana Siddiqui Zaman
Bolte kyun nahi mere apne,
Aable pad gaye zabaan mein kya?
(Why don't my own people speak for me; have their tongues got boils?)
This is Jaun Elia (1931-2002), forever upfront and sarcastic. The Delhi audience had its first-ever rendezvous with the poet-philosopher and scholar of Arabic, Urdu, English and Hebrew recently, via the play, Jannat Se Jaun Elia, courtesy Harfkaar, a theatre group founded by poet Azhar Iqbal.
Elia was born in Amroha in Uttar Pradesh. He had to migrate to Pakistan where he never wanted to go, but had to, in 1958. However, his soul could never leave Amroha. Most of his poems depict his desperation to return to the land of "Ganga ji aur Jamunaji" and his beloved Fariya Nigarina, who could not marry Elia for he was a wanderer.
Elia's life is an interesting mix of his casual lifestyle, addiction to drinking and smoking, hatred for religion, Marxist ideas, blunt statements, admiration for Mir Taqi Mir, frivolous remarks on Ghalib's poetry, and a forever conflict with most of his contemporary poets, mostly because of his caustic remarks on their supposed lack of knowledge and style of poetry. The play focuses on his eccentricities — sly humour, wit, his impulsive self and an inimitable style of chest beating.
The play penned by Ankit Gautam and Sachin Tiwari is pregnant with sharp messages. It begins with Elia's death. A woman singing his ghazal, "Us gali ne ye sochke sabr kiya, jaane wale yahan ke the hi nahi", while carrying a candle in the dead of night, precedes his body shouldered by people. Just before reaching the grave, Elia's arm slides from the janaza — with a liquor bottle in his hand, reciting his poem, "Shauq-e-zindagi..."
Amid laughter from the audience, Elia is flung into heaven. He screams and abuses, asking for his own brand of liquor and bumps into other poets, writers — Mir, Ghalib, Mirza 'Sauda', Nasir Kazmi, Ahmad Faraz, Firaq Gorakhpuri, Munir Niyazi and Ismat Chughtai. The play unravels his opinion and relations with these poets. Ghalib, whom Elia had addressed as "bas 25 shehron ke shayar", keeps a mushaira and raqs (dance) in Eliai's honour.
While the first part of the play is a satirical account of each poet's worldly auqaat as per Elia, the second is a dance evening where instead of a classical performance, the dancer gyrates on the modern "Fevicol se", much to the shock and embarrassment of the reputed dead poets.
Iqbal says the idea is to indicate how poetic gatherings have become like a bazaar where poets, unlike good old days, ask for applause from the listeners. "The standard of poetry has gone down. It is recited provocatively to fuel religious and political fervour. So, we are trying to revive the lost class and dignity of such mehfils through our dramas."
Interestingly, all the writers/actors in the play are non-Urdu knowing non-Muslims. "We want to show that language is not a property of any one community," he says. Lead actor Kaukab Fareed, who looks and feels every bit Elia, was given a standing ovation. "I have been an Elia fan since my childhood. So, it comes naturally to me," says the actor-poet.
Top News
Anti-incumbency, Congress win in neighbouring Karnataka turn...
Draws a blank in Madhya Pradesh, Rajasthan and Chhattisgarh